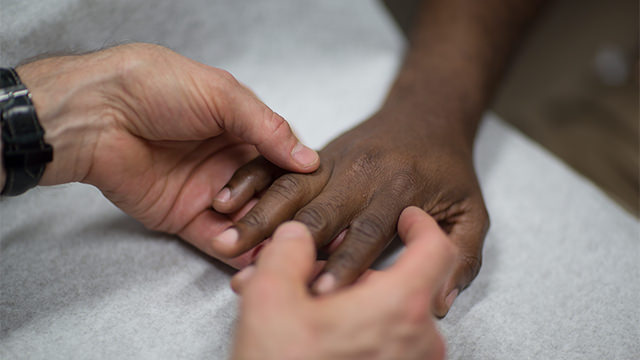 The compassionate, highly skilled orthopedic physicians and surgeons of Mount Sinai-Union Square carefully tailor your treatment plan to your individual needs. Our goal for everyone is the same—to eliminate or minimize pain and get you back to your highest level of function and independence.
Our physicians have expertise and experience in joint care, sports medicine, and disorders and injuries of the shoulder, elbow, hands, knees, ankles, and feet. At Mount Sinai-Union Square, conveniently located right in your neighborhood, we offer minimally invasive outpatient surgery, and our expert physical therapy department and rehabilitation specialists offer a full range of nonsurgical options.
Our doctors are part of the Mount Sinai Health System, whose flagship hospital, The Mount Sinai Hospital, is recognized by U.S. News & World Report as having one of the finest orthopedics programs in the country. Our doctors are also faculty members at the Icahn School of Medicine at Mount Sinai, one of the nation's foremost medical schools.
Specialties
General Orthopedics
Our general orthopedics physicians can expertly treat a broad spectrum of conditions. A general orthopedist routinely treats musculoskeletal conditions over the entire body, compared with a sub-specialist who focuses on a particular joint, like the knee or shoulder. Because of their whole-body approach, general orthopedists can often make insightful connections between your orthopedic conditions. They can also refer you to the full complement of other orthopedic specialists in the Mount Sinai Health System for treatment of severe or unusual conditions.
Foot and Ankle
Our fellowship-trained specialists treat the full spectrum of foot and ankle disorders, including:
Ankle sprains and strains
Simple and complex ankle fractures
Ankle instability
Overuse-related injuries
Flatfoot
Foot fractures
Bunions
Hammer toe
Foot and ankle issues due to rheumatoid arthritis
Achilles tendon ruptures


Orthopedic Rehabilitation
If you have just had orthopedic surgery, or are looking for nonsurgical options, our rehabilitation medicine specialists are here to help. These physicians specialize in orthopedic conditions, from sore muscles and joints to spinal cord injuries. Our rehabilitation medicine doctors are leaders in their field, developing and testing rehabilitation treatments as well as creating new and better ways to train your body—for peak athletic performance and the demands of everyday life.
We can also help you manage pain. Using a range of medications, injections, and nerve blocks (sometimes guided by imaging techniques).
Pediatric Orthopedics
Pediatric orthopedists take a more global approach to the very young patient. Because of still-developing musculoskeletal systems, many children's orthopedic problems—including congenital defects, growth abnormalities, neurological conditions, and fractures—are different from those of adults. The pediatric orthopedist's experience guides the decision of when to intervene and when to let nature take its course. Our pediatric orthopedists see it all, and have special expertise in:
Club foot
Cerebral palsy
Growth problems due to fractures, deformities, hormonal imbalances, and other causes
Preventive interventions for disorders including Blount's disease (bowing of the legs)
Scoliosis
Shoulder and Elbow
Our fellowship-trained shoulder and elbow surgeons treat injuries to these joints with minimally invasive outpatient surgery available onsite at Mount Sinai-Union Square.
During minimally invasive arthroscopic surgery, a surgeon inserts a pencil-sized tube enclosing a light and camera into a small incision near the joint. An image of the inside of the joint is then viewed on a screen. Arthroscopic procedures offer the advantage of an easier recovery, with long-term results that are typically the same as more traditional open surgeries. Depending on the type and extent of your injury, your shoulder and elbow surgeon will determine which method is best for you.
Spine
Either through age, improper lifting techniques, or trauma, millions of Americans develop spine disorders in their lifetime. To pinpoint the exact cause and location of your back and spine pain, our experts use the most technologically advanced equipment for accurate diagnosis. Because spine problems often demand sophisticated diagnoses, as well as physical therapy and pain management approaches, we depend on close alliances with other disciplines, especially with rehabilitation medicine specialists, who provide nonsurgical treatments such as intermuscular or ligament trigger injections to relieve pain.
Our specialists treat back pain caused by:
Strains and sprains
Herniated discs
Scoliosis
Kyphosis
Osteoarthritis
Spinal deformities
Spinal tumors
Orthopedic Surgery
Mount Sinai Health System's board certified, fellowship-trained orthopedic surgeons include many nationally recognized leaders in orthopedic surgery. We consult with professional sports teams and share that expertise with you. We also have designed innovative orthopedic implants that surgeons use to improve patient outcomes. Patient safety comes first, and our results show it with an infection rate for joint replacement better than the national standard. While we perform outpatient procedures at Union Square, we refer to you to one of our seven outstanding New York City hospitals when inpatient surgery is required.
Make an appointment with us to learn more about our orthopedic surgery services, such as:
Bloodless orthopedic surgery
Hand
Joint replacement
Shoulder and elbow
Spine
Podiatry
Trauma Service