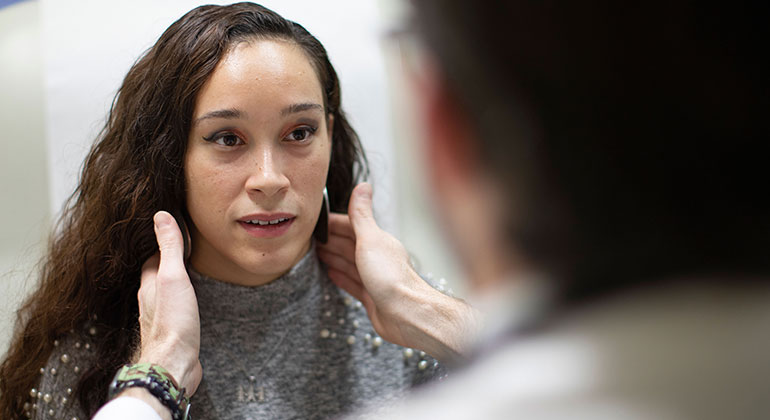 Mount Sinai Doctors-2052 Richmond Road, Otolaryngology
For more than a decade, Mount Sinai's otolaryngologists—specialists in diseases affecting the ears, nose, and throat—and facial plastic and reconstructive surgeons on Staten Island have been diagnosing and treating a broad spectrum of conditions. At Mount Sinai Doctors-Staten Island, Otolaryngology, we treat children through older adults experiencing everything from sinus and ear infections to more complex cases of cerebrospinal fluid leaks and Mohs reconstructive surgery.
Our physicians' and audiologists' expertise includes general ear, nose, and throat conditions; hearing loss; facial plastic and reconstructive surgery; rhinology/sinus surgery; pediatric ear, nose, and throat issues; and sleep management and surgery. Our team closely collaborates with other departments, such as primary care, cardiology, dermatology, pulmonology, neurology, neurosurgery, and pediatrics. In addition to the convenient location on Richmond Road, our patients benefit from our seamless communication with referring physicians and coordinated care.
Mount Sinai's Staten Island otolaryngologists diagnose and treat numerous ear, nose, and throat conditions, including:
Hearing loss and balance disorders
Cleft lip and palate
Cough and chronic cough
Ear disorders and infections, including earwax and swimmer's ear
Eustachian tube dysfunction
Facial nerve paralysis and trauma
Fine lines/wrinkles
Laryngitis
Sinus disorders, including sinusitis and sinus headaches
Speech and language disorders
Throat and vocal cord disorders, including dysphagia and dysphonia
Thyroid conditions
Tinnitus
Tonsillitis
Tympanic membrane perforation
Vertigo and Meniere's disease
Meet Our Audiology, Otolaryngology, and Facial and Reconstructive Surgery Experts
Mount Sinai provides comprehensive care for patients with otolaryngology conditions. Our doctors and support staff are experts in their field.
Stella Agrapidis, AuD, CCC-A, audiologist
Bart Castellano, MD, general otolaryngologist
Satish Govindaraj, MD, Chief of Rhinology and Skull Base Surgery
Fred Lin, MD, Chief of Sleep Surgery
Aldo Londino, MD, pediatric otolaryngologist
Joshua Rosenberg, MD, Co-Chief of Facial Plastic and Reconstructive Surgery