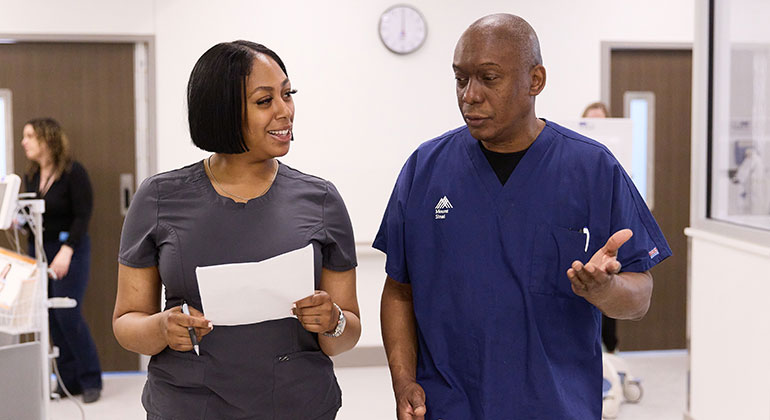 Compassionate, Coordinated Care for Patients
At the Mount Sinai-Behavioral Health Center, we take every step to help you on your way to recovery. From the time of your initial, comprehensive evaluation, our care team will be dedicated to addressing your mental health, substance use, and physical health needs holistically. You will be treated with compassion, dignity, and respect.
Treatment Areas and Services
At the Mount Sinai-Behavioral Health Center, we are committed to serving the comprehensive health needs of our diverse community—with varying health conditions and needs. Our multidisciplinary team of psychiatrists, psychologists, social workers, counselors, peers, registered nurses and other clinical staff is dedicated to providing you with personalized and comprehensive behavioral health care that is fully integrated with your other medical needs. Our Center offers highly skilled therapeutic care for a wide range of conditions and specialized needs, including but not limited to:
Mood disorders including depression and bipolar disorder
Psychotic disorders such as schizophrenia
Anxiety disorders, such as panic disorder
Trauma and stress such as post-traumatic stress disorder
Substance use disorders, such as alcohol use disorders and opioid use disorders
Many people, moreover, have more than just one condition. We specialize in treating people with multiple behavioral health conditions. Whether you have depression, or if you have post-traumatic stress disorder, panic disorder, and alcohol use disorder, our team of experts will work to create an individualized treatment and care plan that's right for you.
Access to the Latest Treatments Through Clinical Trials
We are constantly breaking new ground through our research. Our patients have access to the latest treatments by participating in our clinical trials. Participation is voluntary, and many patients choose to take advantage of these innovative therapies.