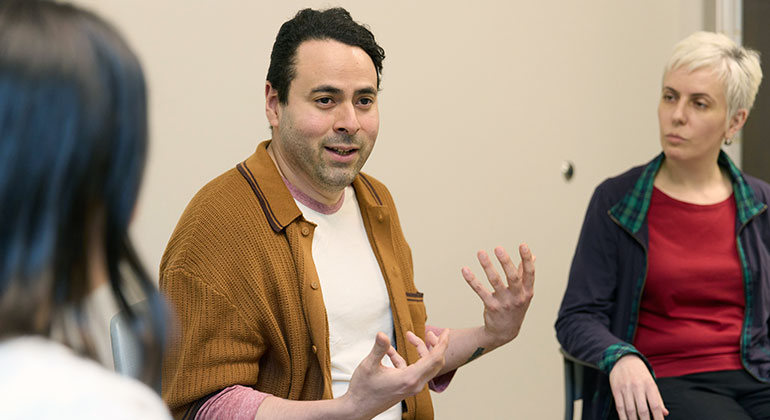 At the Mount Sinai-Behavioral Health Center, our outpatient programs are designed to meet a wide variety of needs within our community—treating a range of disorders as well as the specialized needs of children, adolescents, young adults, and geriatric patients. We offer services at many different levels of care, which are designed to best take care of the varying severities and types of behavioral health conditions you may have.
Integrated Outpatient Services
The Comprehensive Evaluation Service and Integrated Outpatient Services include clinicians with expertise in a broad range of mental health, substance use, and physical health conditions who collaborate in the evaluation and treatment process.
For most people, our Integrated Outpatient Services will best meet their needs. This service provides mental health, substance use, and primary care services all in one location. Teams of psychiatrists, primary care providers, physician assistants, psychologists, social workers, certified substance abuse and alcoholism counselors, nurses, and more will work to take care of both your behavioral health and physical health needs. We offer:
Comprehensive mental health and substance abuse evaluations.
Medication-based treatment (for mental illness and/or for substance use).
Individual psychotherapies and counseling such as cognitive behavioral therapy, dialectical behavioral therapy, psychodynamic therapy, supportive counseling, and more (for mental illness and/or for substance use).
Group therapies (for mental illness and/or for substance use).
Day rehabilitation program for substance use.
General primary care services.
Unlike many other behavioral health programs, we offer a "single door" entry to our Integrated Outpatient Services. For example, if you have depression and alcohol use disorder, rather than having to go to one program for your depression and another program for alcohol use, our multidisciplinary team works together so that you can get all of your care as part of our integrated program. In addition, we offer a full primary care service along with our outpatient behavioral health services, to ensure that your physical health needs can be taken care of in the same program. Our highly skilled team of primary care professionals is dedicated to ensuring you receive personalized and compassionate care. As part of the Mount Sinai Health System, we are also able to connect you with specialty care and other types of services available in our network.
Intensive Outpatient Services
Sometimes people need more than just individual therapy once a week or a psychiatrist for medication. Major life changes and new stresses can all affect the severity of symptoms. When your symptoms become more severe, or you develop new symptoms, there are other options besides going to an emergency room or being hospitalized. At the Mount Sinai-Behavioral Health Center, we offer two such programs—a Partial Hospitalization Program (PHP) and an Intensive Outpatient Program (IOP). These programs are short-term treatment options for people who have more severe symptoms of depression, other mood disturbances, trauma, anxiety and/or other conditions. Both programs offer:
Group therapy
Individual therapy
Medication management
A typical course of treatment in the Partial Hospitalization Program is three to four hours a day, for four to five days a week, spanning two to three weeks. A typical course of treatment in the Intensive Outpatient Program is two to three hours a day, for two to three days a week, spanning four to eight weeks. All of your care is overseen by a psychiatrist.
We also have an Assertive Community Treatment (ACT) Team that serves the most vulnerable people with severe mental illnesses in the downtown Manhattan community. This highly specialized team goes provides direct care for individuals who need intensive treatment and support.
Finally, we also offer an Ambulatory Detoxification program for those for whom an outpatient option is determined to be medically safe to do so by our expert providers. This program is predominantly for people with opioid use disorders.