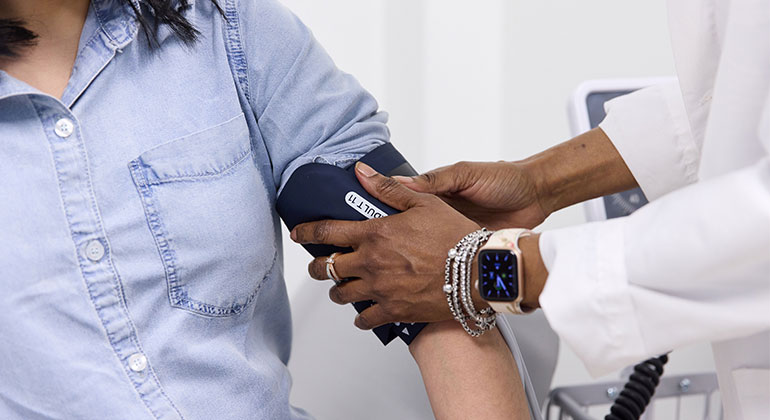 Mount Sinai-Behavioral Health Center's transformation of the current system for mental health treatment goes hand-in-hand with basic and clinical research. All patients will have the opportunity to participate in research and clinical trials that contribute to the advancement of psychiatric knowledge and care. That means early and exclusive access to innovative therapeutic approaches that could have beneficial, life-changing outcomes.
Mount Sinai-Behavioral Health Center is part of Mount Sinai's Department of Psychiatry, a national leader in basic and clinical research with nearly $50 million in NIH funding, more than 40 labs, 130 research faculty, and 15 major research centers. We collaborate with geneticists, neuroscientists, molecular biologists, and neurologists to zero in on the physiological components that lead to psychiatric disease. Thanks to our large clinical programs throughout New York City, our research programs have broadly diverse participants, enhancing study efficacy and enabling us to build rich datasets.
"There is a great unmet need for new interventions, either psychological or pharmacological. That is particularly true for patients with substance use disorders. We are very interested in launching clinical trials that look at risk factors for addiction, both genetic and environmental, as well as the potential to use psychedelics to treat patients with post-traumatic stress disorder. These are just some of the avenues we will be exploring further at the Mount Sinai-Behavioral Health Center."

–René S. Kahn, MD, PhD, Esther and Joseph Klingenstein Professor and Chair, Department of Psychiatry
Clinical Trials
All patients have the opportunity to be involved in research that provides access to innovative treatments, as well as contributing to the advancement of psychiatric research. Clinical trials led by Mount Sinai psychiatric researchers have led to the following discoveries:
Efficacy of repeated ketamine infusions in reducing PTSD symptom severity
Switching antipsychotic medications does not improve schizophrenia
CBD reduces withdrawal symptoms in patients with opioid use disorder
Antidepressant effects of deep brain stimulation last several years
New genes associated with autism spectrum disorder
Our current research focuses on the areas listed below. Please reach out to the individual contacts if you are interested in participating in these studies.
Addiction
We are studying cannabidiol (CBD), a non-intoxicating cannabinoid, as a potential treatment for opioid use disorder. This line of research is founded on our preclinical animal studies, which demonstrated that CBD reduced drug-seeking behavior and normalized neurobiological systems altered by the use of heroin. Subsequently, our initial human studies showed that CBD could reduce cue-induced heroin craving and anxiety in heroin-abstinent individuals. Our current studies focus on understanding the effects of CBD on the brain as well as conducting clinical trials of CBD formulations as a pharmacological treatment for opioid use disorder. We are also investigating the potential of other mechanisms for addiction treatment.
Depression
Our research to understand and treat treatment-resistant depression focuses on novel therapeutics such as ketamine, brain circuit abnormalities, developing neuroimaging biomarkers of disease and treatment response, and developing (f)MRI as a measure of target engagement for therapeutic interventions.
Eating Disorders
We investigate the neurobiology and treatment of eating, weight, and body image disturbance. We use a mixture of neuroimaging, psychophysiology, neurocognitive, and endocrine assays as well as integrated technology solutions to help create new treatments. Results from our work continue to help us to develop, implement, and disseminate empirically supported treatments to our patients and their families.
Psychosis
Investigating novel drugs and treatments in first-in-human studies, including gene therapy, is a core focus. We also conduct multidisciplinary research to investigate the psychosocial determinants in chronic psychiatric disorders, including co-occurring disorders, by leveraging new knowledge in basic science, neuroscience, and technology to develop maximally efficacious behavioral treatments.
Post-Traumatic Stress Disorder (PTSD)
One of our primary goals is to provide leadership in working with MDMA-assisted psychotherapy for PTSD so as to pave the way for the use of psychedelics once this approach is approved by the U.S. Food and Drug Administration (FDA). The Center also seeks to examine the mechanisms involved in resilience and recovery so that MDMA-assisted psychotherapy and related treatments can be scaled and delivered more effectively. To this end, the Center has proposed its first study to investigate whether a two-dose MDMA treatment regimen is as effective in reducing PTSD symptoms as a three-dose regimen. We also conduct clinical trials using MDMA, psilocybin, and other psychedelic compounds with a focus on their use for implementation in traditional clinical settings.
Suicide Prevention
Our research focuses on identifying and treating the Suicide Crisis Syndrome (SCS): a negative cognitive-affective state associated with imminent suicidal behavior, independent of suicidal ideation. We conduct clinical trials of pharmacological treatments for the SCS and we aim to implement and test the effectiveness of the SCS assessment for reducing suicidal behavior in a large urban hospital system.