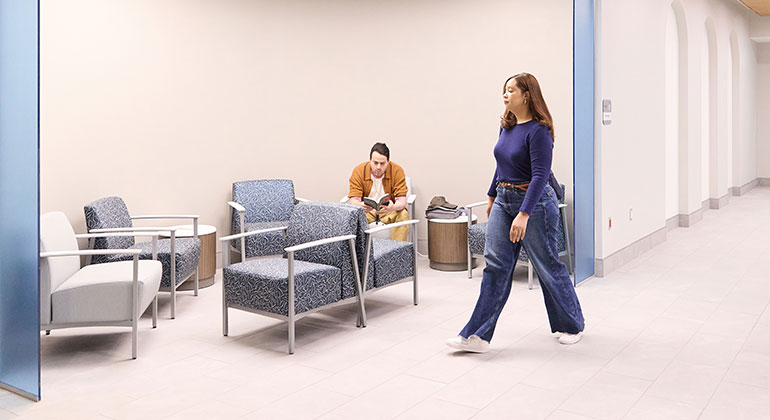 Many people who have mental health challenges also have substance use disorders and health issues. The model of the Mount Sinai-Behavioral Health Center integrates treatment for mental health, substance use disorders, and physical health care in one location. We give patients every chance for success.
"By concentrating all aspects of treatment in one location, we believe we can improve adherence to treatment and thus achieve better outcomes than is possible by just focusing on one area."

–Prameet Singh, MD, Vice President of Behavioral Health, Mount Sinai Health System
A Continuum of Health Care Under One Roof
At the Mount Sinai-Behavioral Health Center, we are committed to serving the comprehensive health needs of our diverse community—with varying health conditions and needs. The Center offers a robust continuum of behavioral health and physical health services, all in one location.
Emergency Services
The Mount Sinai Beth Israel Comprehensive Emergency Psychiatry Program (CPEP) will continue to have its Psychiatric Emergency Room services at the Mount Sinai Beth Israel campus, located on First Avenue at East 16th Street.
Connecting and Engaging Patients in Care
Patients who are transitioning from inpatient or emergency levels of care to outpatient treatment often need more intensive support. Some patients with severe illnesses also have difficulty engaging in outpatient behavioral health care, often experiencing symptoms so severe that only an inpatient level of care is appropriate. For these patients, the Mount Sinai Behavioral Health Center will have a specialized Behavioral Health Care Engagement Team comprised of social workers and peers to work intensively during these transitions of care and to better engage patients into outpatient treatment. This team will be based out of our Integrated Outpatient Services, and will focus on this group of the most vulnerable patients to better ensure success in engagement into our outpatient services.
Access to Innovative Therapies Through Clinical Trials
Patients at the Mount Sinai-Behavioral Health Center have access to the latest therapies and treatments through our groundbreaking research. Participation is always voluntary in our clinical trials, but many have benefited from these innovative treatments.