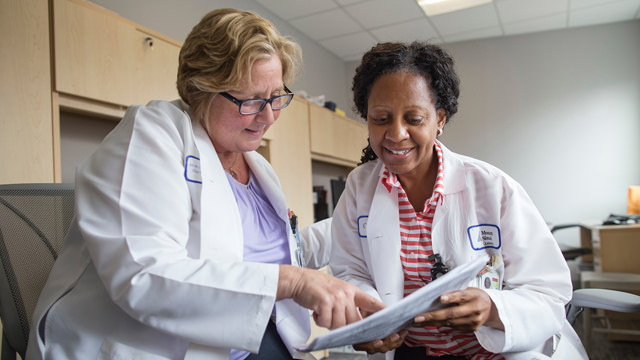 Being hospitalized is often a stressful event for patients and their families. There are a number of people and programs in the hospital to help you cope.
Language assistance and sign language interpreters: Mount Sinai Queens serves a large and diverse population. To eliminate language barriers, patients and family members who prefer speaking a language other than English, should request that a member of our care team connect to the interpreter phone service at the patient bedside using dual handset phones. If the preferred language is Sign Language, an in-person interpreter can be requested by calling 718-267-4273 or a video interpreter can be provided. Vital documents and forms can also be obtained in other languages.
Pain management: The nurses caring for patients will assist you with strategies to reduce pain and discomfort. A pain management service, staffed by specially trained physicians and nurses, is available upon request through the patient's attending physician.
Patient representatives: A patient representative is your advocate during your hospitalization or for help with any hospital matter. Patient representatives work with our patients and their families to address any issues—problems, complaints, or concerns, about the health care services delivered to them by Mount Sinai Queens. The patient representative can also provide information about the New York State Health Care Proxy and your rights as a patient. Call the Patient Representative with any questions or concerns at 718-267-4310. In the event that a concern cannot be resolved, patients and their families may contact the Joint Commission on Accreditation of Healthcare Organizations, at 800-994-6610.
Private duty nurse: Arrangements for a private duty nurse may be made through the Mount Sinai Queens Nursing Department at 718-267-4276.
Department of Social Work: The Social Work Department provides professional guidance to patients and their families and can assist you with a wide range of counseling and discharge services. If you are admitted, the Social Work Department also works with you, your family, and your healthcare team to prepare you for discharge, a process that begins from the moment you are admitted. If you have questions, please call 718-267-4273.
Visiting Nurse Service: We can provide and coordinate home health care such as nursing and rehabilitation visits, medical social work, and personal care services. Many other organizations also provide high-quality home health care services. The Visiting Nurse Service at Mount Sinai Queens can be reached directly at 718-267-4366.
Non Discrimination Statement
Consistent with federal, state and city law, it is the policy of the Mount Sinai Health System that the hospitals, ancillary areas, medical practices, and the Icahn School of Medicine will not tolerate hateful, discriminatory, racist, bigoted or abusive speech or behavior of any kind on the basis of age, color, disability, gender, gender identity, immigration status, marital or partnership status, military service, national origin, pregnancy, race, religion/creed, sexual orientation or any other status protected by law.