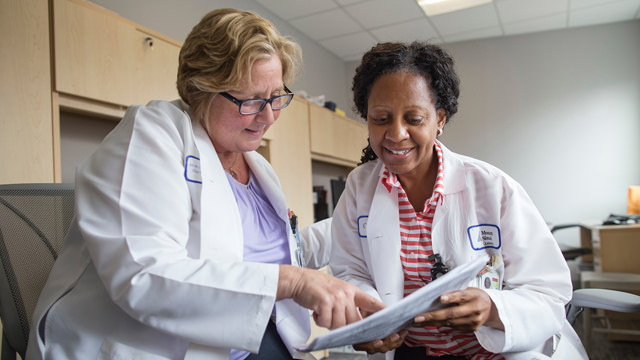 Support Services
Being hospitalized is often a stressful event for patients and their families. There are a number of people and programs in the hospital to help you cope.
Language assistance: If patients and family members are more comfortable speaking a language other than English, any member of the team can connect to interpreter phone service/language lines at the patient bedside using dual handset phones. Many hospital documents are also available in other languages.
Pain management: The nurses caring for patients will assist you with strategies to reduce pain and discomfort. A pain management service, staffed by specially trained physicians and nurses, is available upon request through the patient's attending physician.
Patient representatives: A patient representative is your advocate during your hospitalization or for help with any hospital matter. Patient representatives work with our patients and their families to address any issues—problems, complaints, or concerns, about the health care services delivered to them by Mount Sinai Queens. The patient representative can also provide information about the New York State Health Care Proxy and your rights as a patient. Call the Patient Representative with any questions or concerns at 718-267-4310. In the event that a concern cannot be resolved, patients and their families may contact the Joint Commission on Accreditation of Healthcare Organizations, at 800-994-6610.
Private duty nurse: Arrangements for a private duty nurse may be made through the Mount Sinai Queens Nursing Department at 718-267-4276.
Sign language interpreters: Sign language interpreters can be brought to the hospital by asking the nurse or by contacting a patient representative at 718-267-4310. Also, for patients who are deaf or hearing-impaired, a special symbol will be placed at their bedside, once permission is given.
Social Services Department: The Social Services Department provides professional guidance to patients and their families and can assist you with a wide range of counseling and discharge services. If you are admitted, Social Services also works with you, your family, and your healthcare team to prepare you for discharge, a process that begins from the moment you are admitted. If you have questions, please call 718-267-4273.
Visiting Nurse Service: We can provide and coordinate home health care such as nursing and rehabilitation visits, medical social work, and personal care services. Many other organizations also provide high-quality home health care services. The Visiting Nurse Service at Mount Sinai Queens can be reached directly at 718-267-4366.
Non Discrimination Statement
The Mount Sinai Health System complies with applicable Federal civil rights laws and does not discriminate, exclude, or treat people differently on the basis of race, color, national origin, age, religion, disability, sex, sexual orientation, gender identity, or gender expression.