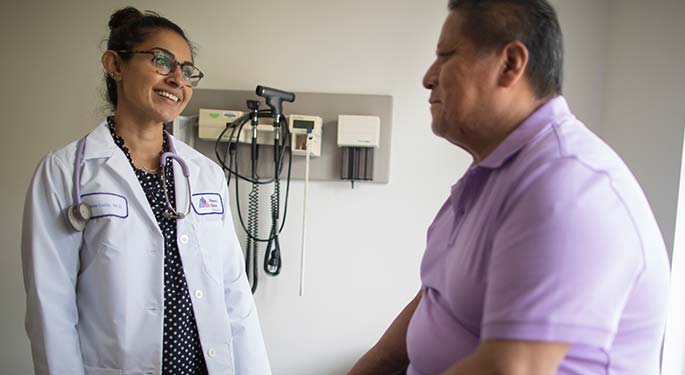 Gastroenterology
Mount Sinai Queens provides you accurate diagnoses and expert medical and endoscopic treatment for a wide range of digestive conditions, ranging from acid reflux to cancers of the gastrointestinal (GI) tract.
We perform colonoscopies and upper endoscopies in our state-of-the-art Endoscopy Suite at Mount Sinai Doctors Queens by our highly qualified gastroenterologists and board-certified anesthesiologists. In these procedures, we will sedate you for your comfort before your doctor inserts an endoscope to detect any abnormalities in your digestive tract during which we may remove polyps and treat gastrointestinal bleeding. We monitor you closely, before, during and after procedures.
Our doctors also perform capsule endoscopies during which you swallow a pill, which captures high-definition images throughout the GI tract.
If you require additional specialized treatment, we work closely with our teams in colorectal surgery, surgical oncology, cardiology, nephrology, and infectious disease to provide you with personalized and comprehensive care.
Conditions We Treat
Abdominal bleeding
Benign colon conditions
Constipation
Dysphagia (difficulty swallowing)
Eosinophilic esophagitis
Gastrointestinal cancer
Gastric polyps
Inflammatory bowel disease
Small bowel disease
Meet Our Team
Laila N. Menon, MD
Mount Sinai Doctors Queens
2520 30th Avenue
Astoria, NY 11102
Phone: 718-808-7777