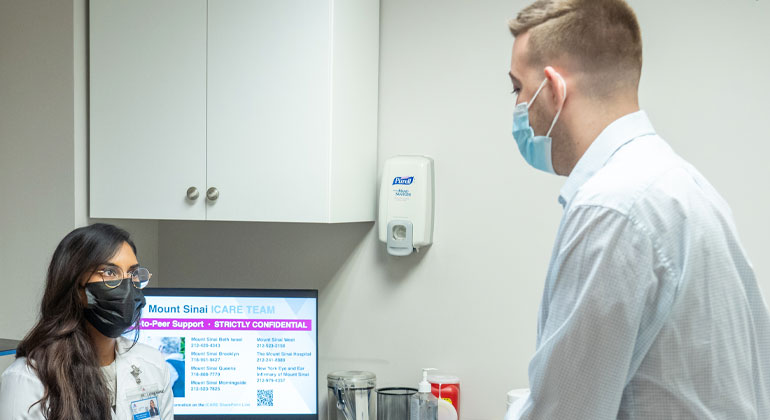 Endocrinology and Diabetes
Endocrinology is the study of hormones and how they affect many functions in the body. When hormone levels are abnormal, certain conditions may arise, such as diabetes and thyroid issues.
Mount Sinai Doctors in Queens offers access to leading endocrinologists who can expertly diagnose conditions affecting the endocrine system and provide a comprehensive, patient-centered treatment plan to manage your condition.
Conditions We Treat
The endocrinologists at Mount Sinai Doctors in Queens treat a wide range of endocrine disorders including:
Services We Offer
Mount Sinai Doctors in Queens offers full diagnostic capabilities for endocrine disorders, as well as a wide spectrum of medical and surgical treatment options.
Diabetes
Our endocrinologists provide comprehensive treatment for diabetes (type or type 2) or a related disorder. Diabetes can cause a variety of complications including eye damage, neuropathy, kidney failure, heart disease, and high blood pressure. To effectively manage this condition, you may need both medical and lifestyle interventions. Our approach includes:
An individualized treatment plan
Collaboration with multiple specialists, such as podiatrists
Coordination with your primarily care doctor
Individualized nutrition counseling
Insulin instruction for you and your family
We guide you through your treatment options using the latest technology. Such approaches include continuous glucose monitoring and insulin pump therapy as well as oral anti-diabetic medications, insulin, and non-insulin injectables. Advanced technology enables our endocrinologists to monitor your glucose levels continuously using sensors placed under your skin. In addition, computerized glucometers store your blood sugar readings on a memory chip that you can bring with you to doctor visits.
Nutrition Counseling
Mount Sinai's Diabetes Alliance program helps make the nutrition and lifestyle changes that will help keep your condition under control. A Mount Sinai registered dietitian/certified diabetes educator will assess you to see if you are at risk for developing diabetes or are living with the disease. They will also serve as a diabetes coach, creating customized meal and exercise plans for you. You can also discuss other health matters, such as average blood sugar, blood pressure, cholesterol levels, and self-care. Working with your primary care doctor, our dietician educator will provide information that helps you understand your risks and opportunities.
Make an appointment with a Mount Sinai endocrinologist in Queens