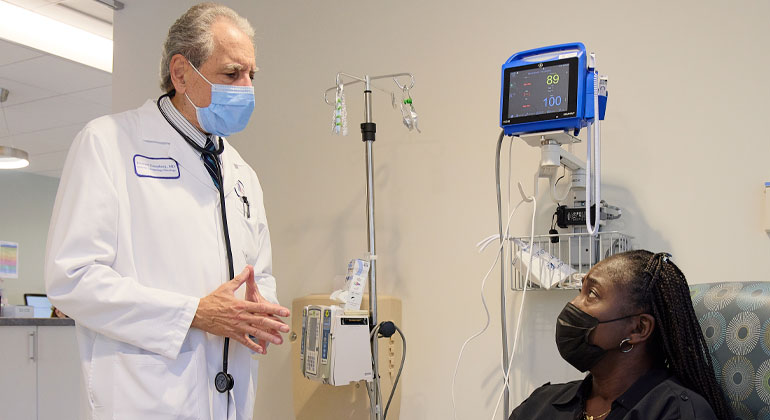 At Mount Sinai Doctors in Queens, we know how overwhelming a cancer diagnosis—or possible diagnosis—can be. We have extensive expertise in treating the full range of cancers, and work with you to address all your questions and concerns.
Our cancer specialists combine compassionate care with outstanding clinical skills. As an extension of the Mount Sinai Tisch Cancer Center, we take a team approach to cancer care. Our medical and surgical specialists collaborate on your treatment plan, in conjunction with your primary physician.
Diagnosis
We use a variety of imaging approaches to diagnose cancer. These include:
Treatments We Provide
Cancer treatments often consist of several approaches. Mount Sinai cancer experts employ the latest technologies to precisely treat your cancer, protect surrounding areas, and provide you the highest quality of life during treatment. You may receive one or more of the following:
Radiation: Precisely focused high-intensity beams that kill cancer cells and shrink tumors. Sometimes used as palliative treatment on patients who cannot undergo surgery
Surgery: Minimally invasive procedures or traditional open surgery to remove cancerous tumors
Chemotherapy: Medicine delivered by pill or intravenously, to treat cancer. This category also includes immunotherapy and biotherapy
Medical oncologists and hematologists use the latest chemotherapy medications to treat cancer at the Mount Sinai Queens Infusion Center, located in the Mount Sinai Doctors-Astoria ambulatory pavilion adjacent to the hospital.
Palliative Care
Our inpatient palliative care team helps patients with advanced, incurable cancer to transition to hospice services that focus on maximizing quality of life. These services are affiliated with Mount Sinai's Lilian and Benjamin Hertzberg Palliative Care Institute.
Blood Cancers and Disorders
Our experienced oncologists and hematologists treat a wide range of blood cancers and other blood disorders. We use the latest approaches, including blood product transfusions and intravenous infusions, performed at the Mount Sinai Queens Infusion Center. The blood conditions we diagnose and treat include:
Make an appointment with a Mount Sinai cancer specialist in Queens