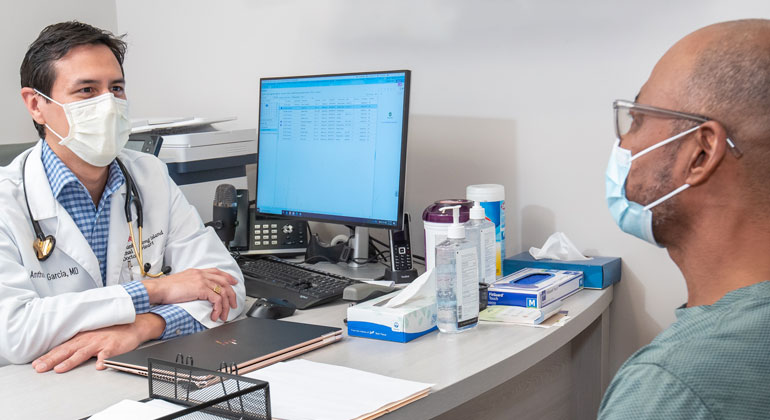 Gastroenterology/Liver Medicine
If you have a disorder of the stomach, intestines, or liver, Mount Sinai Doctors in Queens can help. We provide accurate diagnosis and expert treatment for a wide range of digestive conditions. We take the time to listen to your concerns, answer your questions, and make sure you understand your diagnosis and treatment options. In our state-of-the-art endoscopy suite, our gastroenterologists use the latest approaches and technologies. We bring the medical expertise of the Mount Sinai Health System close to you in Queens.
Our gastroenterologists and liver specialists work as a team with other Mount Sinai Health System experts, such as colorectal surgeons, surgical oncologists, and infectious disease physicians, to provide comprehensive care for all digestive conditions.
Prevention
At Mount Sinai Doctors, one of our goals is to prevent you from developing potentially serious gastrointestinal issues in the first place. We emphasize prevention by performing routine colorectal cancer screenings at appropriate ages, which can detect colon polyps early, before they become cancerous. For patients with acid reflux disease, we look for early signs of Barrett's esophagus with the goal of preventing it from developing.
Conditions We Treat
Mount Sinai Doctors in Queens diagnoses and treats a broad range of gastrointestinal and liver conditions. These include:
Treatments We Provide
At Mount Sinai Doctors in Queens, we often evaluate gastroenterological problems using endoscopy. This procedure involves inserting a long, flexible tube with a camera (called an endoscope) down the throat and into the esophagus. This lets us look at your esophagus, stomach, and the top of the small intestine (duodenum). Endoscopy can also be used to examine the colon for any concerns, such as polyps or suspected cancers, or treat gastrointestinal bleeding.
When we identify the source of the condition, we treat it using medical therapy, minimally invasive procedures, and/or lifestyle changes.
Make an appointment with a Mount Sinai gastroenterologist in Queens