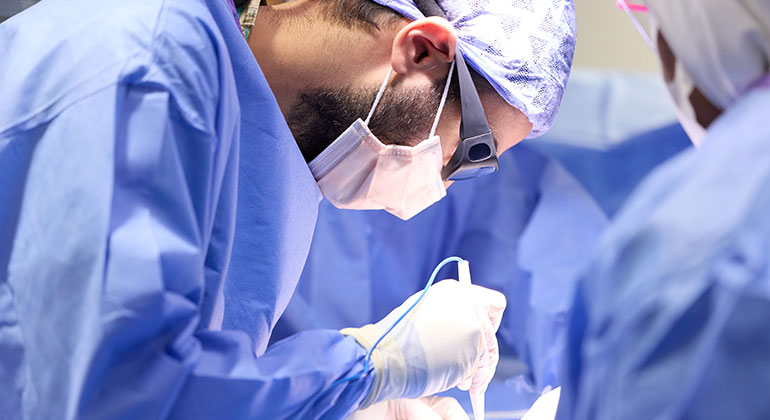 Mount Sinai Doctors in Queens is committed to providing you with the highest quality surgical care in a reassuring, patient-centered environment. Our highly trained surgical teams perform a wide range of traditional "open" as well as minimally invasive surgeries, including robotic-assisted procedures.
Our surgical team has greater capabilities than ever before with the opening of the hospital's state-of-the-art surgical suite. Located in our new $175-million, 140,000-square-foot Mount Sinai Queens Pavilion, we now offer more extensive surgical services, including procedures previously only available at Mount Sinai locations in Manhattan. Our new operating suites include private pre-surgical rooms, a recovery room, and a large and light-filled comfortable family waiting area.
Surgical Oncology
Our expert surgical oncologists treat both benign tumors and a wide array of cancers, including complex, recurrent, and multiple cancer cases, using minimally invasive and open surgical techniques. We have expertise in surgery on the esophagus, gastrointestinal system, liver and bile ducts, pancreas (Whipple procedure, distal pancreatectomy), spleen, adrenal glands, colorectal system, and skin cancers. When needed, we can perform specialized operations at The Mount Sinai Hospital.
We work together with medical and radiation oncologists, as well as surgical subspecialists to develop an individualized plan of treatment for you.
Colorectal Surgery
If you have a benign or malignant condition of the colon, rectum, or anus that requires surgery, Mount Sinai Doctors in Queens provides expert, compassionate care with an emphasis on minimally invasive procedures.
We can perform minimally invasive procedures for a variety of colon and rectal diseases and conditions, including colorectal cancer, diverticular disease, rectal prolapse, and inflammatory bowel diseases. This approach results in less post-operative pain, less scarring, and shorter post-operative hospital stays than traditional, open surgery. We can also perform surgery with our state-of-the-art da Vinci Xi robot.
In addition, our surgeons also have extensive experience with benign anorectal diseases, such as anal fissures, anal fistula, and hemorrhoids. We offer a broad range of treatments, including medical treatments, office-based procedures, and ambulatory surgical procedures.
Endocrine Surgery
Our skilled surgeons perform minimally invasive and open surgeries to treat diseases of the endocrine system, which includes the thyroid, parathyroid, and adrenal glands. We use routine intraoperative nerve monitoring during thyroidectomy to help identify and protect the nerve to the voice box. We employ minimally invasive approaches whenever possible.
General Surgery
Our expert surgical teams perform a wide range of traditional, minimally invasive, laparoscopic, and robotic surgeries. These include abdominal surgeries such as appendix, gallbladder, hernia, esophagus, stomach, and colorectal surgeries, as well as thyroid surgery.
We can perform emergency general surgical procedures, 24 hours a day, seven day a week. We are dedicated to providing you and your family with the highest quality of compassionate care before, during, and after surgery.
Vascular Surgery
We treat a variety of vascular conditions including carotid artery disease, aneurysmal arterial disease, thoracic and abdominal aortic aneurysms, mesenteric occlusive disease, tibial occlusive disease, and venous disease. We also perform procedures to provide dialysis access.
Our vascular surgeon specialists perform minimally invasive catheter-based endovascular procedures and open surgeries.
Make an appointment with a Mount Sinai surgeon in Queens