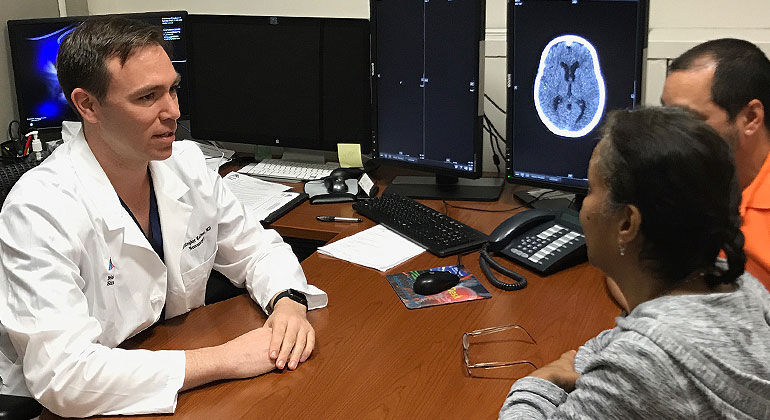 If you need neurological surgery, you want to put yourself in expert hands. Mount Sinai Doctors in Queens has highly skilled surgeons who are also on staff at The Mount Sinai Hospital. The Mount Sinai Hospital is ranked No. 9 in the U.S. for neurology and neurological surgery by U.S. News & World Report for 2022-23. Our expert team of neurosurgeons work together to accurately diagnose and treat a wide range of disorders, using advanced imaging and technology. Whenever possible, we use minimally invasive, computer-guided surgical techniques, which use small incisions. These techniques result in shorter hospital stays, quicker recovery, fewer complications, and better cosmetic results.
Services We Offer
Our neurosurgeons in Queens are dedicated to giving you the best possible outcome. We remove tumors, manage pain, treat movement disorders, improve mobility, repair damage caused by trauma, and improve your quality of life. We have expertise in several types of procedures:
Brain and cranial surgery: We treat malignant brain tumors including astrocytoma, glioblastoma and oligodendroglioma, as well as benign tumors such as acoustic neuroma, ependymoma, hemangioblastoma, and meningiomas. We also treat head trauma, brain hemorrhages, hydrocephalus (fluid in the brain), bone tumors of the skull, and chronic brain infections.
Spinal surgery: Our spine neurosurgeons have expertise in a wide range of spine conditions, from routine to complex. We offer state-of-the-art treatment for spinal stenosis, disc herniation, cervical spondylosis, cervical myelopathy, radiculopathy, and Chiari malformation.
Other neurosurgical conditions: Our neurosurgeons treat a wide variety of neurological disorders including carpal tunnel and other nerve compression syndromes, trigeminal neuralgia (facial pain), and hemifacial spasms (facial twitches).
Make an appointment with a Mount Sinai neurosurgeon in Queens