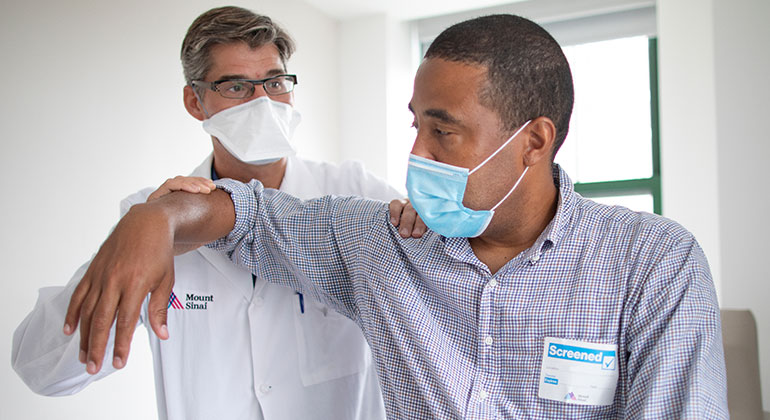 Mount Sinai Doctors in Queens offers the latest orthopedic treatments with the goal of eliminating your pain and maximizing your function, mobility, and independence. Our caring and experienced staff will provide you with individualized attention for your unique orthopedic needs. Our surgeons are part of a team of experts dedicated to orthopedic care, including physician assistants, nursing staff, and our rehabilitation department.
Conditions We Treat
Our team is skilled at diagnosing orthopedic conditions and recommending the treatment that will give you the best mobility. The conditions we care for include:
Ankle and foot strains and fractures
Elbow pain and fractures
Hand and wrist injuries, including carpal tunnel syndrome
Osteoarthritis, most commonly in the hip, knee or shoulder
Sports injuries
Tendonitis
Treatments We Offer
We treat many orthopedic conditions at first using medication, injections, or rehabilitation medicine, including physical therapy. If nonsurgical treatments fail to resolve your pain and mobility issues, we may recommend surgery. We use minimally invasive arthroscopic techniques whenever possible, and many patients return home the same day. Minimally invasive approaches mean faster recovery time, less pain, and less chance of complications. Surgical treatments may include:
Arthroscopy to repair torn or damaged cartilage, tendons, or ligaments
Fracture repair
Rotator cuff repair
Research has shown that full recovery from orthopedic surgery depends on successful physical therapy. For this reason, we assess your needs right after surgery—and begin rehabilitation soon thereafter. Our physical therapists work with inpatients seven days a week to help them regain full mobility. We help you transition from the hospital to home, or to a rehabilitation facility, if necessary, as quickly as possible.
Make an appointment with a Mount Sinai orthopedic surgeon in Queens