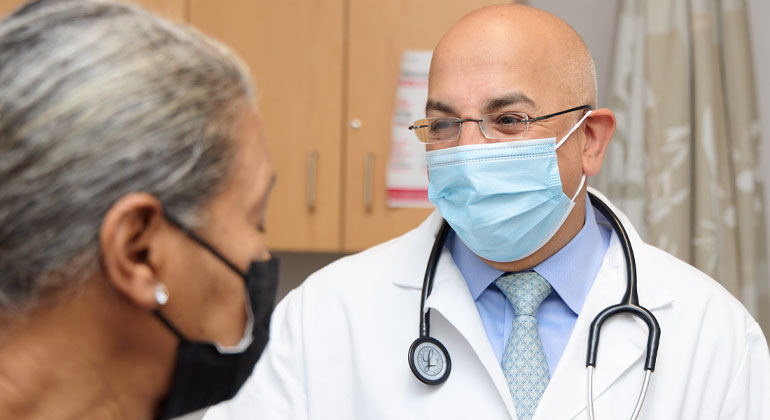 The cardiologists at Mount Sinai Doctors in Queens are experts in treating patients with sudden-onset, chronic, and rare heart conditions. We offer state-of-the-art diagnostics and treatment for the full spectrum of heart disease in a warm and compassionate environment. All of our physicians are on the faculty of the Icahn School of Medicine at Mount Sinai.
Starting with your first visit, we take the time to listen to your medical history and symptoms and answer your questions. If heart testing is recommended, we offer full diagnostic capabilities. We will discuss your results and treatment options, which may also include education on nutrition and exercise. We will also keep in touch with your primary or referring physician. Working as a team, we develop a treatment plan that is right for you.
Whether you are getting a baseline cardiac check-up, or receiving ongoing treatment, our goal is to prevent you from getting heart disease, or prevent it from getting worse.
Conditions We Treat
There is a wide range of heart disorders, from structural problems, to narrowed or blocked coronary arteries, to an irregular heart rhythm. We have the experience, skill, and technology to diagnose and treat them. The conditions we see most often include:
Arrhythmia (heartbeat that is too fast or slow)
Diabetes-related heart problems
Peripheral vascular disease
Services We Provide
If you are at risk for cardiovascular disease, Mount Sinai Doctors in Queens offers you access to the renowned cardiac program at the Mount Sinai Health System. This program includes a comprehensive risk assessment, the latest diagnostic testing, and development of an individualized treatment plan. Our diagnostic testing includes:
24-hour blood pressure monitoring
Nuclear stress testing
We offer state-of-the-art treatment options, including:
Bypass surgery to restore normal blood flow to blocked coronary arteries
Peripheral interventions, for blood flow problems in the arms or legs
Why Mount Sinai Doctors in Queens
Mount Sinai Doctors in Queens has some of New York City's top heart specialists, and is backed by the full resources of the Mount Sinai Health System. Our team of heart physicians is here to provide you with the best care for optimal heart health.
Make an appointment with a Mount Sinai Cardiologist in Queens