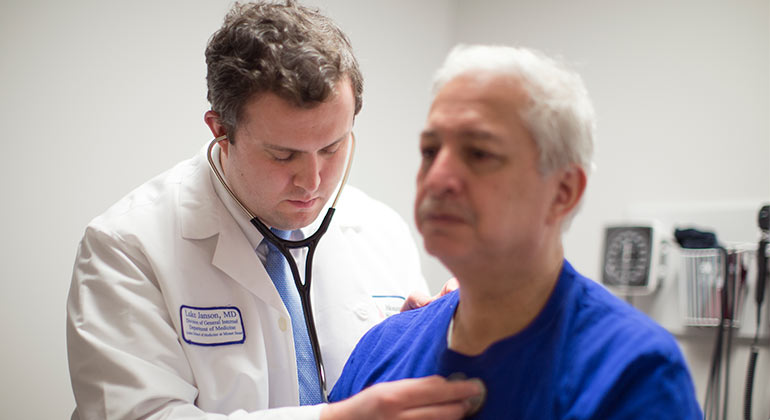 Primary Care
Consistent, quality medical care is essential to a person's ongoing health and well-being. Even healthy people need a primary care doctor who they can turn to when needed. A trusted primary care physician who knows you and your health concerns—and with whom you feel comfortable—is an important step in achieving and maintaining good health.
Our compassionate primary care physicians, who specialize in internal medicine, as well as pediatrics and geriatrics, act as your first line of defense against illness. They are skilled at diagnosing symptoms and prescribing the best treatment, taking into account your personal health history, family history, and lifestyle. They take the time to get to know you as a person, not just as another patient. They monitor your health, conduct regular screenings, practice preventive medicine, and provide sound medical advice, whether you're managing a chronic illness or visiting annually for a thorough routine physical examination. Our primary care doctors are committed to caring for you and your entire family, from birth through your golden years.
The skilled, compassionate primary care doctors of Mount Sinai Queens have offices throughout Queens. All are board certified and most serve on the faculty of the Icahn School of Medicine at Mount Sinai. All are committed to providing our patients with the highest level of quality, patient-centered care.
Mount Sinai Doctors Queens
Mount Sinai Doctors, which includes primary care physicians as well as specialists, is located in the new Mount Sinai Queens Ambulatory Pavilion at 25-20 30th Avenue in Astoria, adjacent to Mount Sinai Queens hospital. Primary care physicians have offices on the fourth floor. This state-of-the-art medical building is also home to the Stavros Niarchos Foundation Emergency Department, Mount Sinai Queens Imaging, featuring the latest diagnostic imaging equipment and a new interventional radiology suite. The modern limestone and glass building has stunning views of Manhattan and Queens.
Additional Practices
Additional practices include Mount Sinai Queens Family Health Associates in Astoria, Mount Sinai Doctors-Jackson Heights, Mount Sinai Doctors-31st Avenue; and Mount Sinai Doctors-Forest Hills.
Our primary care physicians are doctors you can trust. Many speak languages in addition to English, putting our diverse patient population at ease. All are committed to giving our patients the best possible care.