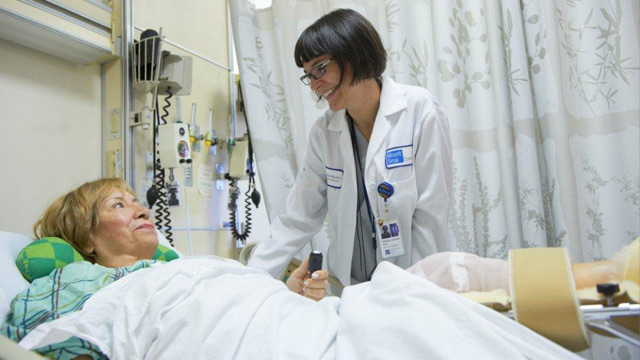 We believe in patient-centered care, which means you are the center of all of our efforts. Our skilled team of doctors, nurses, technicians, and other health care professionals is committed to providing you with the best medical care and to making your stay as comfortable as possible.
Patient Representative
A patient representative is your advocate during your hospitalization. Your patient representative can also give you information about the New York State Health Care Proxy and your rights as a patient. Call 718-267-4310 with any questions or concerns you may have at.
Patient Services
There are a number of people and programs in the hospital to help patients and their families.
Food and Nutrition Department: Each day, you will be visited by a Catering Associate who will take your menu selections and address any dietary needs. Kosher, Gluten-free, Halal and vegetarian meals are available. If you have any additional questions, you can call 718-267-4281.
Pain management: Pain relief is a priority at our hospital. The nurses caring for you will assist you with strategies to reduce your pain and discomfort. It is important that you discuss any changes in the level of your pain with your nurse or doctor. A pain management service is available upon request through your attending physician.
Social Services Department: The Social Services Department provides professional guidance to you and your family during hospitalization and can assist you with a wide range of counseling and discharge services. If you have questions, call 718-267-4273.
Pastoral care: Chaplains from many religions are available to visit patients. Ask your nurse for assistance or call 718-267-4276.


Palliative Care: A palliative care service is available for patients with a serious or chronic illness that optimizes quality of life by anticipating, preventing, and managing suffering. It is delivered by an interdisciplinary team of physicians and social workers to address the physical, emotional, social, and spiritual needs of patients and their families.


Safe Room: The hospital provides safe rooms for patients who may have dementia, be at risk for falls, or require closer monitoring or attention. Our goal is to provide a therapeutic environment for patients who need special care.
Nursing Services
Mount Sinai Queens received the coveted Magnet designation for nursing excellence awarded by the American Nurses Credentialing Center. It is the only hospital in Queens to receive this prestigious recognition, and we are committed to promoting safe, quality care during your stay. Registered nurses collaborate with nursing assistants to deliver exceptional nursing care 24 hours a day, 7 days a week, and will partner with you, your loved ones, and caregivers, for a seamless and positive patient experience. We will ensure that you are an active participant in your plan of care with the health care team for optimal health and well-being. Our holistic, evidence-based care and commitment to your healing process is at the forefront of what we do.
Private duty nursing can be arranged through the Nursing Department by calling 718-267-4276.