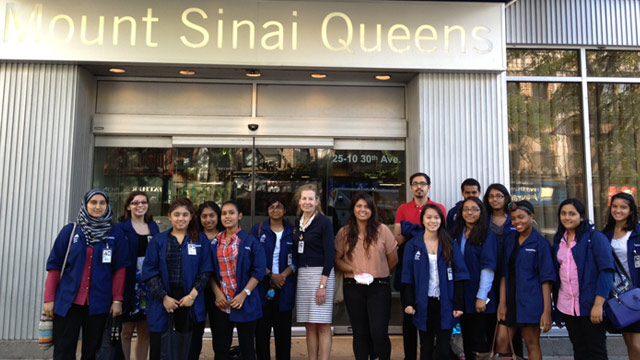 Volunteer Opportunities
We welcome volunteers to help make the hospital experience as comfortable as possible for our patients and their families. Our dedicated volunteers, including high school students, retirees, and those in between, serve in many capacities. Some work directly with patients on clinical or special care units and diagnostic departments, while others assist patients indirectly through administrative support and at special events.
Hours vary depending on the duties and the age of the volunteers. Adults and college students are asked to commit a minimum of six hours per week for at least six months. High school students are asked to commit a minimum of four hours per week for at least one semester. We welcome volunteers to give more of their time and stay on longer. All volunteers are supervised and receive orientation and necessary training to perform their duties.
For more information about volunteering opportunities, contact the Director of Volunteer Services at ana_m.rodriguez@mountsinai.org or call 718-808-7726 (email is preferred).
Volunteers from the community help create the friendly atmosphere that makes Mount Sinai Queens a special place. If you are interested in joining our volunteer team, please note the following:
The minimum age for volunteering is 15, or higher for some placements.
Prospective volunteers should email the Director of Volunteer Services expressing your interest.
The Director schedules an interview with the eligible prospective volunteer. At the interview, volunteers receive the application materials, including letter of recommendation forms and medical clearance forms
We ask that adult and college student volunteers commit to a minimum of six hours per week (minimum of three consecutive hours per day) for six months (150 hours). Time commitments may vary with placement.
Applicants with non-immigrant visa status (including but not limited to H-1s, H-4s, TNs, TDs, F-1s, F-2s, J-1s, J-2s, and EAD holders) are not permitted to volunteer (this does not apply to U.S. citizens or green card holders). For alternative options, contact International Personnel at hamel.vyas@mountsinai.org.
All accepted volunteers must complete a background screening as well as a toxicology and health exam before being placed.
It typically takes 4-6 weeks from the time of the interview to complete the registration process.
Volunteers can enhance the hospital experience for our patients and our visitors in a variety of ways.
Breast Health Program Volunteer
There are opportunities for clerical work (assisting with filing, photocopying, answering phones), as well as with special events such as health fairs. This is an excellent opportunity to learn about breast health and to encourage women to get breast screenings. Volunteers must be compassionate, sensitive to breast cancer patients, and able to put them at ease. Volunteers must be at least 21.
C.A.R.E. Volunteer - Emergency Department
The Department of Emergency Medicine's Care and Respect for Elders with Emergencies (C.A.R.E.) program is dedicated to enhancing emergency care for older patients by assisting the nursing staff and offering patient support. Volunteers greet patients and engage them in friendly conversation. This is an excellent volunteer opportunity for those seeking direct patient contact. Volunteers for this position must be at least 18.
Explorer Program - Exploring Careers in Health Care
In collaboration with the Greater New York Councils of the Boy Scouts of America, the Exploring Program is an after-school opportunity for high school students to visit the hospital. Students participate in interactive activities designed to explore the varied career opportunities within health care. Students have the opportunity to speak with professionals about a wide range of fields, including radiology medicine, emergency medicine, pharmacy, nursing, and health care security.
Greeter - Operating Room Waiting Area
Volunteers maintain a cordial and friendly atmosphere in the waiting area as they greet and meet patients and their families. Their role is to provide information and to minimize stress. They communicate with nurses regarding patient flow and field inquiries from families and visitors. Volunteers for this position must be at least 18.
Greeter - Hospital Lobby
Stationed in the hospital's main entrance and lobby, these volunteers greet visitors, patients, and their families as they enter. Volunteers provide information to visitors and family members regarding hospital facilities and resources available in the community. Volunteers for this position must be at least 16.
Marketing Volunteer
These volunteers work with the Marketing and Communications Department to support the hospital's efforts to reach out to the community. The position requires computer skills, knowledge of social media, writing and editing ability, and office experience.
Music for Healing
Volunteers in the Musicians on Call program aid in the healing process by singing or playing an instrument at the bedside of interested patients. Others support the musicians by escorting them to patients' rooms. Volunteers must demonstrate sensitivity to the special needs of patients and must be at least 18.
Nursing Unit Patient Advocate
Volunteer patient advocates assist admitted patients and their families in a variety of ways. They help contact family members and significant others, offer patients reading materials, and provide visitors information about hospital facilities and the surrounding community. Volunteers for this position must be over 21.
Office Support
These volunteers assist in administrative areas in many departments and perform duties that may include data entry, answering phones, faxing, photocopying, and preparing mailings. Placements are available in many departments, including Health Information Management, Central Supply, Materials Management, Social Service, Admitting, Human Resources, Environmental Services, and Marketing and Communications. This is an excellent opportunity for those interested in strengthening office skills and becoming part of an office support team. Volunteers must be at least 15.
Pet-Assisted Therapy
Individual volunteers and their dogs must be certified as a Pet-Assisted Therapy (PAT) team by a recognized organization (e.g., Good Dog Foundation, Therapy Dogs International, Pet Partners) which recommends the team for hospital service. Each PAT team is screened by the Volunteer Department for suitability in our hospital environment.
Summer Youth Health Volunteer Program
We partner with Hellenic American Neighborhood Action Committee Youth Services to place young people, ages 16-21, in summer jobs through the New York City Department of Youth and Community Development's Summer Youth Employment Program. Those assigned to Mount Sinai Queens are placed in various clinical and non-clinical departments throughout the hospital. The summer program runs for six weeks in July and August.