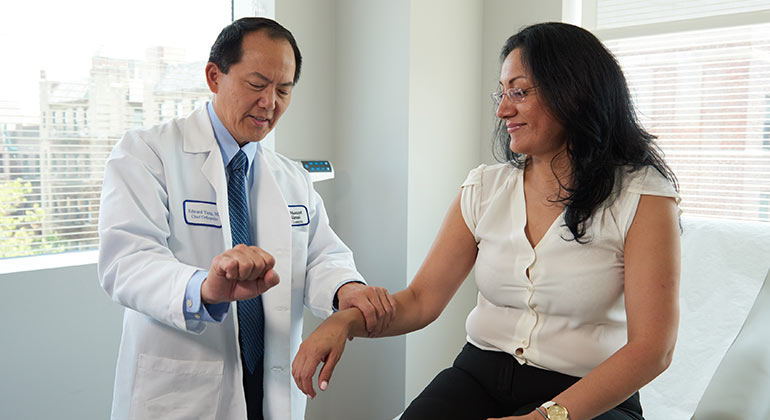 The Department of Orthopedics at Mount Sinai Queens offers the latest treatments of musculoskeletal conditions provided by an experienced, caring medical staff in an excellent hospital setting where patients receive individualized attention. Our patients benefit from having their orthopedic conditions treated in a well-equipped, technologically advanced, and highly professional hospital, where patient-centered care and safety are our primary objectives. At Mount Sinai Queens, our patients experience good outcomes and report high satisfaction. Our goal is to minimize pain and maximize our patients' function, mobility, and independence.
Our team of fellowship-trained physicians is skilled at diagnosing orthopedic conditions and prescribing the best treatment for each case. We perform arthroscopy and joint replacements and treat fractures, sprains, and strains, as well as sports injuries and chronic pain resulting from carpal tunnel and other conditions. We treat knees, hips, spines, shoulders, elbows, hands, and feet. For a list of many of the conditions we treat, please click here.
Patients are often treated with medication, injections, or rehabilitation medicine, including physical therapy. When surgery is necessary, it is often performed using minimally invasive techniques on an ambulatory basis, and many patients return home the same day. This leads to faster recovery time, less pain, and less likelihood of complications.
We expertly perform hip and knee replacement surgery. Research has shown that full recovery is dependent on successful therapy, so immediately following any orthopedic surgery, patients are assessed and rehabilitation begins. Our physical therapists work with inpatients seven days a week to help them regain full mobility and to help them transition from the hospital to home, or, if necessary, to a rehabilitation facility, as quickly as possible. Learn more about how we help you recover from joint replacement surgery at home.
Our team effort provides expert surgery and quality care leading to excellent outcomes. There is close communication among our doctors, physician assistants (PAs), nursing staff, and our rehabilitation department to ensure that patients are getting the care and support they need. Our nursing staff has been awarded Magnet® recognition for nursing excellence, the only Queens hospital to achieve this designation, considered the gold standard of nursing care.
Meet Our Team
The physicians at the Mount Sinai Queens Department of Orthopedics pride themselves on providing you with the individualized care that you need in order to overcome any musculoskeletal obstacle.
Edward Yang, MD
Chief of Orthopedic Surgery, Mount Sinai Queens
718-808-7777
Clinical Focus: Joint Replacement (Hip, Knee, and Shoulder), Arthroscopy, Fractures, Sprains and Strains, Tendonitis, Geriatric Trauma.
Stephen Johnstone, MD
718-808-7777
Clinical Focus: General Orthopedic Surgery, Joint Replacement (Hip and Knee)