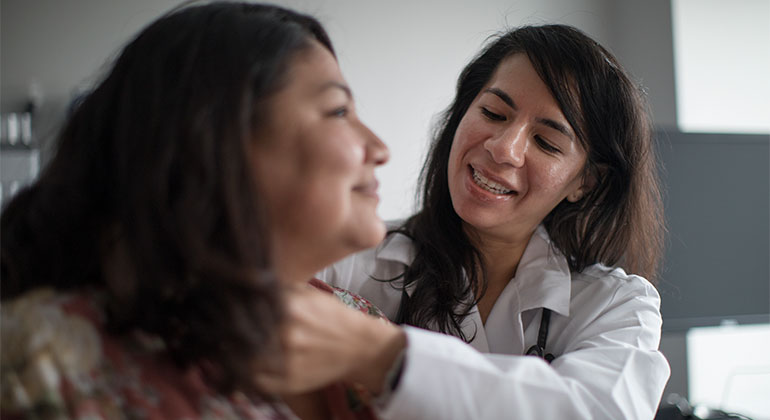 Endocrinology and Diabetes
The endocrinologists at Mount Sinai Queens offer you patient-centered, comprehensive, and compassionate assessment and treatment of a wide range of endocrine disorders. Endocrine conditions include diabetes, bone disease, and health issues related to your thyroid and pituitary glands, reproductive glands, as well as adrenal diseases and diseases of calcium metabolism including osteoporosis and parathyroid disorders.
Mount Sinai Queens offers you metabolic and bariatric surgery, potentially lifesaving procedures that may help change your life.
We treat thyroid conditions, including Graves' disease and other forms of hyperthyroidism, thyroiditis, goiter, and thyroid nodules. We perform dynamic hormone tests to diagnose common pituitary and adrenal gland disorders, such as Addison's disease, Cushing's disease, hyperaldosteronism, and acromegaly.
Our specialists treat women with ovarian conditions such as polycystic ovaries, which can cause abnormal menstrual cycles, excessive hair growth, acne, obesity, and infertility.
We diagnose and treat men with disorders of testosterone production, which can lead to impotence, loss of libido, hypogonadism and infertility.
We also provide hormone management for transitioning transgender individuals.
You can have your bone density tested onsite at our Mount Sinai Imaging Center here in Queens and be treated by our endocrinologists if you have bone loss or osteoporosis.
Diabetes
Our endocrinologists work to provide comprehensive and compassionate care if you have type 1 and type 2 diabetes as well as related disorders. Diabetes can cause a variety of complications including eye damage, neuropathy, kidney failure, heart disease, and high blood pressure. Our doctors recognize that managing diabetes requires a comprehensive, team approach to your care that relies on multiple specialists as well as close coordination with your primary care physician.
To effectively manage diabetes, you may need both medical and lifestyle interventions. We offer on-site diabetes nutrition counseling, teach you and your family how to use insulin, and work together to create an individualized treatment program.
Using the latest technology in diabetes care, we guide you through your options for treatment, including continuous glucose monitoring and insulin pump therapy using new oral anti-diabetic medications as well as new insulins and non-insulin injectables. Advanced technology enables our endocrinologists to monitor your glucose levels continuously using sensors placed under your skin. In addition, computerized glucometers store your blood sugar readings on a memory chip for you to bring to your doctor visits.
Our practices, including Mount Sinai Doctors Queens, offer a family-friendly neighborhood approach to care that gives you access to leading endocrinologists, as well as cardiologists, nephrologists, neurologists, ophthalmologists, urologists, and vascular surgeons, all in one location. We work closely with you and other specialists as needed, to control the progression of your illness and to help you to prevent future complications.
Nutrition Counseling
The Diabetes Alliance is a program available to you as a Mount Sinai patient to help you take the first steps in making nutrition and lifestyle changes, which are critical to keeping your condition in check. A Mount Sinai registered dietitian (RD) who is also a Certified Diabetes Educator (CDE) is available to see you if you are at risk for developing diabetes or if you are currently living with diabetes. Our RD CDE serves as a diabetes coach and works with you and your primary care physician to create a customized meal and exercise plan for you and address your other health matters, such as average blood sugar (A1C), blood pressure, cholesterol levels and self-care skills. They will empower you by providing information. We help you understand your risks and opportunities, which can result in the best possible health care experience, service, and outcome through good nutrition.