Mount Sinai Queens is recognized as a leader and innovator in the field of stroke care. Anyone exhibiting the symptoms of a stroke (face drooping, arm weakness, and speech difficulties) should be evaluated immediately. Getting the right care saves lives and lowers the risk of disability.
At Mount Sinai Queens, our award-winning stroke team is available 24 hours a day, seven days a week to evaluate and treat patients in our emergency department. After admission, we transfer patients to our intensive or intermediate care unit, where we offer constant monitoring and personalized attention.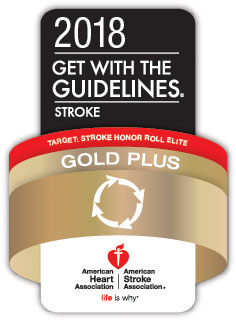 As the only hospital in Queens designated a Primary Stroke Center by the New York State Department of Health and The Joint Commission, we are committed to giving each of our patients the best available treatments in order to ensure the most complete possible recovery.
Our participation in Get With The Guidelines®/Mission: Lifeline® demonstrates our commitment to quality care. We are proud to be a part of the American Heart Association's® efforts to turn guidelines into lifelines.