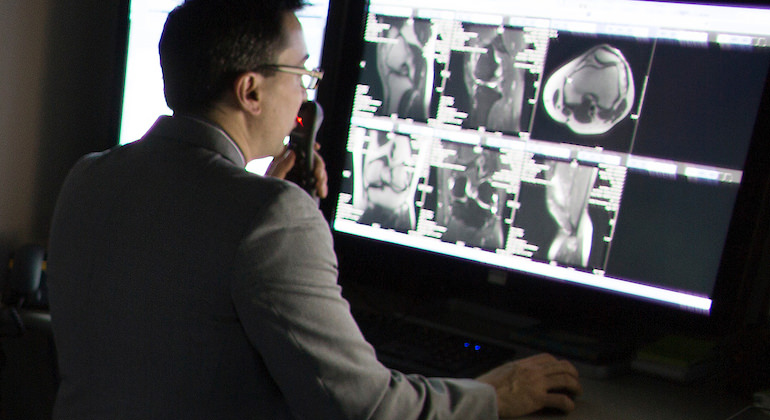 Imaging
Mount Sinai Queens Imaging heralds a new era in health care for Queens residents. Using cutting-edge technology, our team of fellowship-trained, board certified radiologists diagnose conditions in their earliest stages enabling our patients to be treated better and more efficiently than ever before. We offer the latest diagnostic equipment providing the most detailed information at the lowest possible radiation levels.
When you choose Mount Sinai Queens Imaging, you can be confident that all tests are being performed by skilled technicians and interpreted by our subspecialty radiologists who also serve on the faculty of the Icahn School of Medicine at Mount Sinai. We provide the latest technological advances in a comfortable environment that puts patients and their families at ease.
All images are read by board certified radiologists and specialists, and reports are sent to the referring doctor promptly. In addition, images are readily available to any doctor in the Mount Sinai Health System.
Mount Sinai Queens Imaging is conveniently located on the second floor of the Mount Sinai Queens Pavilion, located at in the heart of Astoria. We are easily accessible by subway and bus and just half a mile from the Grand Central Parkway. Our modern new facility is handicap accessible.
Once you have a referral from your physician and authorization from insurance, please call 718-808-7500 for an appointment.
Offering the latest in cutting-edge technology, Mount Sinai Imaging's equipment includes:
High-field 1.5 Tesla MRI system
Multislice advanced CT scanner
Four high-quality ultrasound systems
Digitally compatible x-ray and fluoroscopy machines
PET/CT scanner
Two digital mammography units
State-of-the-art archiving communication system technology
This advanced equipment enables our highly trained technologists to perform many new, highly sophisticated studies, including MR and CT Angiography; CT screen for lung cancer, colon cancer, and cardiovascular disease; oncologic and cardiac PET/CT; and digital, sonographic, and biopsy studies of the breast. Our top-of-the-line picture archiving and communications system provides referring physicians with remote web access to CT, MRI, ultrasound, and diagnostic x-ray studies. Our Department of Radiology operates on a digital basis with immediate availability of all imaging studies.
Scanning is done by highly trained technologists and interpreted by experienced, board certified, fellowship-trained radiologists, who are members of the faculty at the Icahn School of Medicine at Mount Sinai. We offer the following digital technology:
Bone density scan
Computed tomography (CT) scan
Image-guided procedures, including biopsies, injections, and myelography
Mammography and breast tomosynthesis
Magnetic resonance imaging (MRI)
PET/CT scan
Ultrasound
X-ray
We specialize in the following imaging.
Breast ultrasound
Fluoroscopy
Head and neck imaging
MR arthrography
Musculoskeletal ultrasound
Neuroradiology
Our board certified radiologists use the latest screening tools and diagnostic testing to detect cancer. These include CT scans, PET scans, and MRIs to evaluate possible cancerous tumors in the lung, liver, head, and neck. If cancer is found, our radiologists work collaboratively with oncologists and surgeons at the Mount Sinai Queens Infusion Center to provide image-guided procedures for diagnosis and treatment.