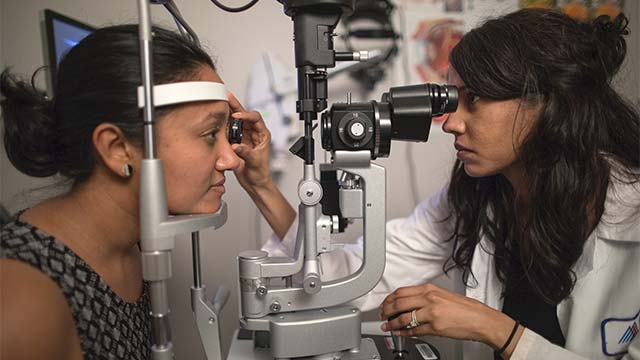 Ophthalmology and Eye Surgery
At Mount Sinai Queens we offer comprehensive eye care that focuses on preventing and treating a wide range of eye conditions. We use the latest technology to screen for glaucoma before damage occurs and treat cataracts and conditions of the retina and cornea. From complex eye surgeries to prescribing eyeglasses and performing LASIK surgery and other procedures to improve vision, we strive for healthy eyes and optimal vision.
Diagnosis and Treatment
Our Mount Sinai Doctors Queens office is equipped with state-of-the-art machines and tools enabling us to diagnose and treat our patients more effectively. Our new Heidelberg Spectralis optical coherence topography (OCT ) looks at the retina and optic nerve with the highest resolution available on the market; the IOL Master is used to optimize cataract outcomes; and our fundus camera photographs the retina and closely monitor patients with conditions such as glaucoma, diabetic retinopathy, or optic nerve diseases that can cause serious visual complications. We also offer laser treatments for our patients with diabetic eye disease or posterior capsular opacification after cataract surgery, as well as injections for patients with diabetic retinopathy or macular degeneration.
Innovative Surgical Services
Our highly trained staff is on the faculty of the Icahn School of Medicine at Mount Sinai and part of the Department of Ophthalmology, which includes a network of ophthalmologists across the Health System, including New York Eye and Ear Infirmary of Mount Sinai (NYEE). We have the experience and technology to perform a wide range of eye surgeries. Our patients have access to the latest and most innovative surgical techniques and experience minimal recovery time, improved visual acuity, and a reduced dependency on corrective lenses after surgery. In addition to providing standard "no stitch" cataract surgery, patients also have the opportunity to discuss advanced cataract surgery options. This includes premium lenses and laser-assisted cataract surgery with our fellowship-trained cornea specialist. We offer Toric lenses that correct for astigmatism; multi-focal lenses, which reduce dependency on glasses after cataract surgery; and the latest multifocal Toric lens, the Symphony. For patients with rare or complex eye diseases who require advanced surgical intervention, our staff collaborates with colleagues at NYEE.
Our cornea specialist, Sumayya Ahmad, MD, also performs refractive surgery such as LASIK and PRK in addition to corneal cross-linking for keratoconus, and corneal transplants, including partial thickness (DSAEK) and full thickness (PKP) corneal transplants. We see all patients at Mount Sinai Queens and most procedures are performed in our facilities right here in Queens. More complex surgeries requiring highly specialized equipment may be performed by your Mount Sinai Queens ophthalmologist at the New York Eye and Ear Infirmary of Mount Sinai.