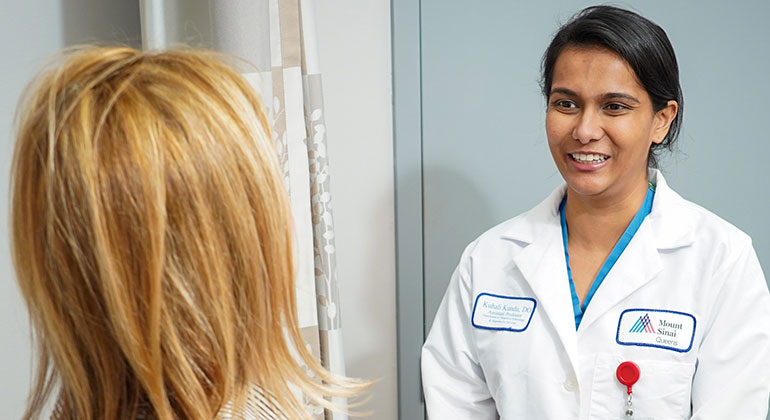 Obstetrics and Gynecology
At Mount Sinai Queens, our team of women's health experts in the Department of Obstetrics and Gynecology offer comprehensive and personalized care to females of all ages, from routine gynecologic exams to prenatal care to treating serious health conditions. Our highly-trained, multidisciplinary team of experts is well prepared to treat the changing health care needs of women as they pass through the various phases of their lives.
Gynecology
Featuring expert gynecologic specialists and a world-class medical staff, Mount Sinai Queens provides a wide range of gynecologic services for women of all ages, including:
Abnormal menstruation
Annual exams
Breast care
Cancer screening
Contraception
Endometriosis
Infertility
Menopause
Oral contraceptives (birth control pills) and other forms of family planning
Pelvic pain
Preventive and routine gynecologic care
Sexually-transmitted diseases
Uterine fibroids
Our board-certified doctors and certified nurse-midwives are dedicated to helping you maintain a positive lifestyle, providing you with the resources you need for the very best gynecologic health and a personalized treatment plan to fit your needs.
From the Teenage Years to Pregnancy, Menopause, and Beyond
Our skilled and caring staff provides exceptional, compassionate care to all our patients, while our multidisciplinary team of medical specialists is committed to helping women of all ages maintain a balanced and healthy reproductive system. We evaluate and treat women for gynecologic issues such as irregular menstrual cycles, abnormal Pap test, vaginal discharge, sexually transmitted diseases, and more, and provide contraceptives depending on your goals concerning reproductive health. Our outstanding gynecological surgeons provide state of the art minimally invasive laparoscopic and hysteroscopic procedures for removal of fibroids, ovarian cysts and hysterectomy, as well as treatment of endometriosis and heavy vaginal bleeding. We offer prenatal services for expectant mothers, menopausal-related care for women in mid-life, as well as counseling and education for all your general gynecologic needs.
Pregnancy and Birth
We offer prenatal and postpartum care at Mount Sinai Doctors Ambulatory Pavilion and Midwifery services at Family Health Associates – all conveniently located in Astoria. Vaginal and caesarian deliveries are performed at The Mount Sinai Hospital, ranked among the best hospitals in the New York Metro area for gynecologic care.
Breast Health and Gynecologic Cancer
We screen for, diagnose, and treat breast cancer, as well as cancers of the female reproductive organs. Cervical cancer is screened for using the Pap test, and we also offer vaccines approved for females ages 9-26 for the prevention of HPV virus linked to cervical cancer.
Learn more about cancer treatment at Mount Sinai Queens.
Areas of Care
Mount Sinai Queens provides a wide range of women's health services, including:
Abnormal menstruation
Birth control
Colposcopy for abnormal Pap tests
Contraception
Cystitis
Digital mammography services
Endometriosis
Family planning
Fibroids
Genital warts
Incontinence
Menopause
Midwifery
Obstetrics
Ovarian cysts
Pap testing
Pelvic pain
Premenstrual syndrome (PMS)
Prenatal care
Preventive and routine gynecologic care
Postpartum care
Sexually transmitted diseases (STDs)
Urinary tract infections
Vaginitis
Yeast infections
Meet Our Team