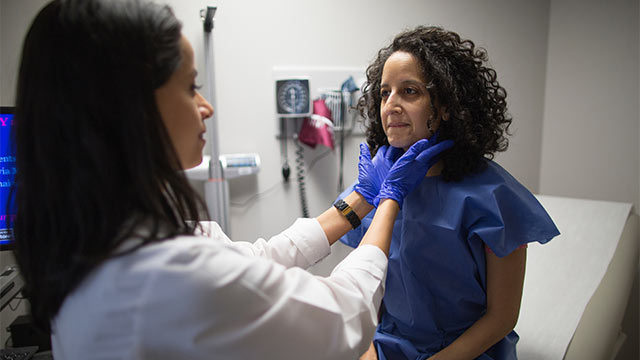 Ear, Nose and Throat (Otolaryngology)
General ENT
We treat adults and children for a wide range of general ENT conditions, including nasal and allergy disorders, chronic sinusitis, nasal obstructions, nasal polyps, deviated septum, vocal cord dysfunction, hearing and balance disorders, thyroid and parathyroid conditions, adult and pediatric sleep issues, and salivary gland disorders. When surgery is required, many minimally invasive endoscopic procedures, such as balloon sinuplasty to open up blocked sinus passageways, can be performed in the office. More involved surgeries are performed in our new, state-of-the-art operating rooms.
Head and Neck Surgery
Mount Sinai Queens has a patient-centered team of doctors who treats a wide range of ear, nose, and throat (ENT) conditions in adults and children. From routine concerns such as chronic ear infections to complex cases of head and neck cancers, we provide a personalized treatment plan that takes into account all of a patient's health considerations and medical history. When called for, we take a multi-disciplinary approach that includes collaborating with other specialists in our Mount Sinai Doctors Queens practice, in endocrinology, radiology, pulmonology, oncology, and other specialties to provide seamless, coordinated care.
Head and Neck Oncology
The fellowship-trained surgeons of Mount Sinai Queens treat all types and stages of head and neck cancers affecting the thyroid, parathyroid, salivary glands, larynx, tongue, throat, and sinuses. A variety of minimally invasive techniques are used that minimize pain, complications, and scarring. In many cases, robotic assisted surgeries are performed using the DaVinci IX Surgical System®, which allows our surgeons to precisely remove cancers from the throat without the need for neck incisions. Candidates for robotic surgery experience minimal scarring, hospital stays and recovery, so they may return to their daily routines as quickly as possible.
Meet Our Team
Harry Pantelides, MD
Ear, Nose, Throat / Otolaryngology
718-384-6933
Mike Yao, MD
Ear, Nose, Throat /Head and Neck Surgical Oncology
212-241-9410