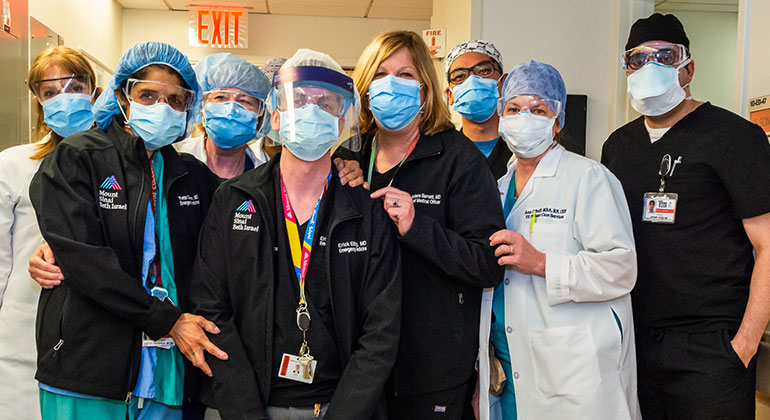 Emergency Department
If you need emergency medical care, you should call 911 or head to the nearest emergency room immediately. Mount Sinai Beth Israel's award-winning Emergency Room (ER) is conveniently located at 16th Street and Nathan D. Perlman Place, between First and Second Avenues.
At Mount Sinai Beth Israel, our highly trained and compassionate doctors have been caring for New York City residents for decades. Today, our ER uses the latest technologies and approaches to provide the finest emergency care available downtown. We have extensive experience as an active emergency room, and our hospital's heart and stroke care has been ranked by CareChex® as among the top 100 in the nation for safety, and has also been recognized by the American Heart Association's Mission: Lifeline program for our commitment to quality patient care. And you can usually go from door to doctor in less than an hour, one of the shortest ER wait times in New York City.
Signals that you should go to the ER include:
Difficulty breathing or speaking
Chest or upper abdominal pain or pressure
Fainting
Sudden dizziness or weakness
Changes in vision
Disorientation or confusion
Sudden or severe pain
Uncontrolled bleeding
Severe or persistent vomiting or diarrhea
Coughing or vomiting blood
Suicidal feelings
We specialize in treating stroke, heart attack, critical care, respiratory issues, and psychiatric and other emergencies. We perform imaging tests on-site, so you can get the results of any diagnostics quickly. We also have a separate short-stay pediatric observation unit and comprehensive psychiatric emergency program.
We are committed to serving every part of our diverse community. We provide on-site Cantonese, Mandarin, Spanish, and American Sign Language translators and are proud to serve the LGBTQ community.
Our on-site Victim Services Unit provides specialized help to victims of rape and other violent crimes.
We accept most health insurance plans including Medicaid and Medicare, and we treat everyone, regardless of ability to pay.
As part of the highly regarded Mount Sinai Health System, we can offer you treatment for any condition, injury, or disease. If you require specialty care, we can provide you direct access to any Mount Sinai Health System hospital in New York City. If you need care quickly for something that's not an emergency, we also offer an Urgent Care Center, open 365 days a year with extended weekday hours, at Mount Sinai-Union Square. We can also offer you referrals to one of our many Mount Sinai Doctors locations for follow-up care. And we are building a brand new Mount Sinai Beth Israel hospital, with a full-service Emergency Department as well as inpatient, operating, and procedure rooms, two blocks away from the current one. It is scheduled to open in 2021, and the current ER will remain open until the new one is ready to accept patients.