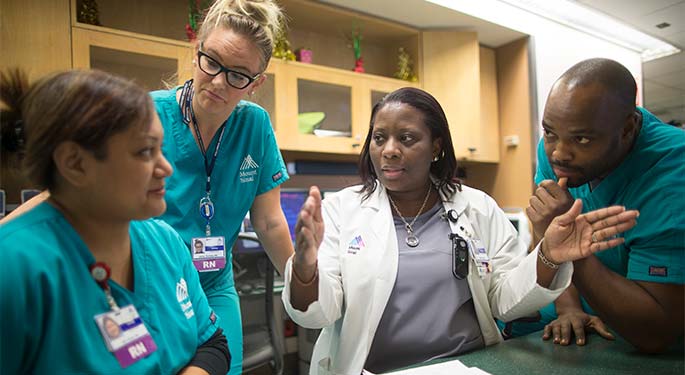 Nursing Strategic Plan
The overarching theme of the nursing strategic plan is to promise our patients that we will keep them safe, that we will provide reliable quality care and patient experience tailored to their individual needs. The Department of Nursing Strategic Plan outlines three goals to achieve these outcomes.
Improve Patient Experience
Every patient encounter begins with "What matters most to the patient and/or family during this shift?"
Every patient feels that they are treated with courtesy and respect
Every patient feels they are listened carefully to
Every patient feels that they understand nurses' explanations
Every patient with pain is identified and each encounter includes a discussion of pain and pain management
Build a Culture of Safety and Quality through Teaming
Every encounter includes a holistic approach: "rounding for outcomes"
Every patient with delirium is identified and provided with targeted interventions
Every patient encounter addresses mobility. This is included in the PHR hourly check in
Every patient and/or caregiver understands elements of medication adherence including side-effects
Value Based Care
Transdisciplinary teams that are reliable, proactive, and responsive, and that reward and recognize staff provide foundation that ensures sustainable valued based care
Every patient receives the right care at the right time, by the right team, in the right setting at the right cost
The value of stewardship is practiced by eliminating avoidable overtime
Clinical Quality and Patient Safety
Mount Sinai Nursing quality and safety goals and initiatives for 2018, and the principles and processes guiding Mount Sinai's commitment to quality and safety are outlined in the Clinical Quality and Patient Safety Performance Improvement Plan. Aligned with the Organization's Clinical Quality and Patient Safety Performance Improvement Plan is the Department of Nursing (DON) Safety, Quality, & Performance Improvement Plan.
Patient Safety Rounds
Patient Safety Rounds is a structured rounding program designed to deliver important safety lessens by leadership to the staff. It allows staff the opportunity to bring forward any patient safety concerns they may have to leadership for review and follow-up.
Great Catch Program
The Great Catch Program celebrates the near misses reported by staff members. The Great Catches help to identify areas where opportunities of improvement may be identified.
Purposeful Hourly Rounds (Rounding for Safety Quality Outcomes)
The Department of Nursing will continue to promote safety, quality, and patient satisfaction with purposeful rounding for pain, toileting, position, and possessions using the tenets of Relationship-Centered Care in all interactions.
Department of Nursing Safety, Quality, & Performance Improvement Plan
Safety
Patient safety is defined as "the prevention of harm to patients." The Department of Nursing Safety, Quality, & Performance Improvement is responsible for the oversight of efforts to prevent nursing-related adverse outcomes and plans to address and remediate adverse outcomes when they do occur
Safety Priorities
Improvement of the Nursing Peer Review process to enhance efficiency and efficacy
Ensure nursing accountability through all phases of the adverse event response cascade by having nursing leadership representation in every step of the process
Quality
Improve and standardize the dissemination of quality data to all nursing staff
Implement improvements to our practice validation methods
Performance Improvement
Improve pain management through consistent nursing communication with patients about their pain goals and compliance with pain screening, assessment, and reassessment
Improve the prevention of HACs through standardized measurement of both incidence and prevalence, effective reporting, and enhanced nursing practices
Enhance the capacity of nursing staff at all levels to lead and participate in performance improvement initiatives using the Lean for Healthcare model. A structured training, coaching, and mentorship model will be developed in partnership with the Office of Strategic Operations & Implementation method and strategies