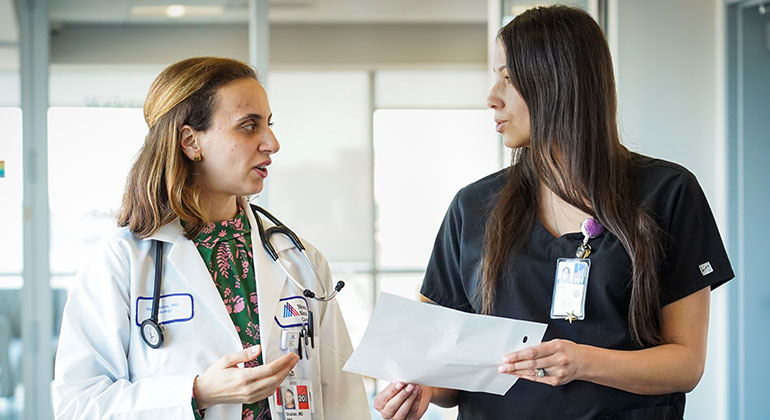 Everyone needs a good doctor—even healthy people. The skilled, compassionate physicians at Mount Sinai Doctors Queens enable you to achieve and maintain good health, whether you need a thorough annual physical, are managing a chronic illness, or need a specialist.
Mount Sinai Doctors Queens is a multispecialty medical practice currently comprised of more than 30 board certified primary care physicians and medical and surgical specialists who serve on the faculty of the Icahn School of Medicine at Mount Sinai. There are separate, dedicated areas for internal medicine, family medicine, OBGYN, and pediatrics to create unique experiences for patients and their families. Specialty physicians are seen on a separate floor.
Our Specialties
Our primary care physicians are committed to providing comprehensive care and maintaining good health, whether you require a thorough annual physical, assistance managing a chronic condition, or well-child visits with one of our highly qualified pediatricians. Our doctors take an interest in their patients personally and get to know them and their health issues, taking into account health, family history, and lifestyle. They excel at diagnosing illness and prescribing a treatment plan that fits best for you. They work closely with you to prevent a wide range of conditions, including diabetes, hypertension, cardiovascular disease, and pulmonary disease.
The skilled physicians at Mount Sinai Doctors Queens provide comprehensive quality health care all under one roof in our new state-of-the-art medical building. When necessary, our primary care doctors can refer patients to specialists in the same building for maximum patient convenience. The practice includes specialists in bariatric surgery; cardiology; dermatology; ear,nose, and throat (ENT) - Otolaryngology; endocrinology; gastroenterology; general surgery-including robotic surgery; interventional radiology; nephrology; neurology; neurosurgery; OBGYN; ophthalmology; orthopedics; pulmonology; rheumatology; spine surgery; surgical oncology; urology; and vascular surgery.
Using our state-of-the-art electronic medical record (EMR) system provided by Epic, all Mount Sinai doctors are able to securely share notes as well as patients' medical histories and up-to-date radiology and lab reports, ensuring streamlined, timely medical care. The EMR system also allows patients to access their medical records and test results online with MyChart, an interactive program that allows patients to communicate electronically with their medical team, view their health summary and lab results, and request prescription renewals.
We invite you to visit the new Mount Sinai Doctors Queens, a multispecialty practice where you will experience the assurance of knowing you're getting quality, compassionate care from doctors you can trust.
To better serve our patient population, many of the physicians at Mount Sinai Doctors Queens speak languages in addition to English, putting their patients at ease. However, if your doctor does not speak your primary language, translation services are readily accessible.