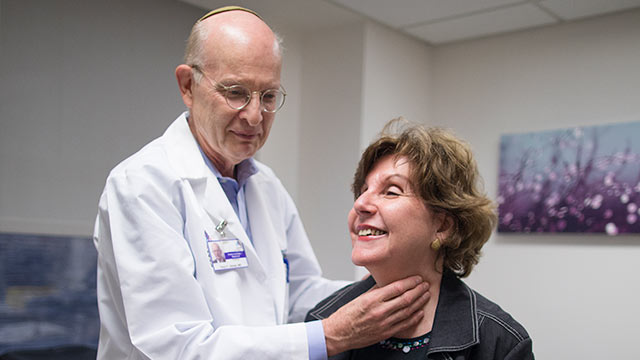 Thyroid Treatment Options
Our doctors have extensive experience in designing the best course of treatment for you. We use proven techniques, and when appropriate, we may suggest a new innovative approach. Our commitment is to ensure that you receive the best possible treatment. We can treat many thyroid conditions with medication alone, though some conditions require a combination of surgery, radioactive iodine, and medicine. At the Thyroid Center, you mayreceive treatments on an outpatient basis, and be able to go home the same day.
In our commitment to bring you the best care possible, we coordinate our efforts within the Thyroid Center, and often will collaborate with many other specialists throughout the Mount Sinai Health System. We also engage your local doctor who may have been involved in your care for a long time.
Our multidisciplinary approach helps to bring together doctors from our Thyroid Center with doctors in various fields who have the expertise to care for you.
Treatments We Offer
We have expertise in the following specialty areas, and we work together as a team to manage your care:
Endocrinology—our experts provide medical treatment options for your thyroid and parathyroid hormone dysfunction. In select cases, we can also perform ethanol ablation (alcohol injection) on certain thyroid cysts, nodules, and recurring thyroid cancer as an alternative to surgery.
Surgery—world renowned surgeons from Mount Sinai's Head and Neck Surgery as well as our Endocrine Surgery Departments are internationally recognized experts. We surgically remove your diseased thyroid glands, lymph nodes, and parathyroid glands with the lowest rate of complications for your best outcome.
Pathology/Cytopathology—our highly skilled specialists analyze and interpret thyroid and lymph node biopsies to determine if you have abnormal cells present. We sometimes use advanced molecular analysis of thyroid nodules to determine your risk of malignancy. We also provide the results of your surgical specimens which are key for our providing you appropriate treatment and follow up.
Nuclear medicine—these physicians are experts in using radioactive Iodine to treat your hyperthyroidism, thyroid cancer, and thyroid cancer recurrence. We also use radioiodine and other agents in diagnosing and treating your thyroid disease.
Genetics—our geneticists diagnose inherited disorders that may affect you and members of your family. We provide recommendations for the best course of action for you and your loved ones.
Ophthalmology—these specialists treat thyroid-related eye conditions such as Graves' disease. We use both with medical and surgical management for your eyes.