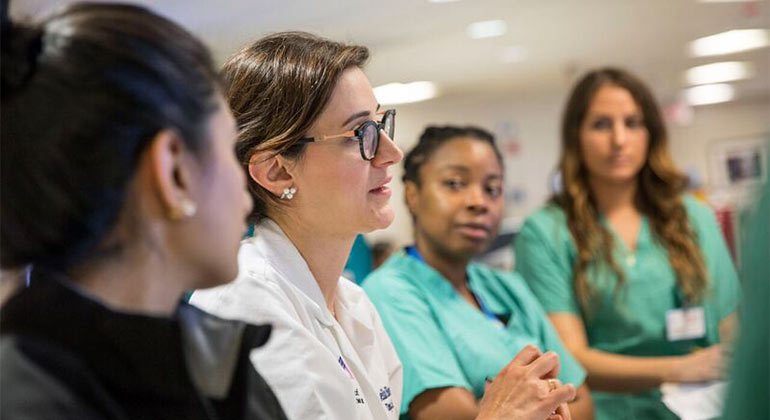 Cardiothoracic Intensive Care Unit (CTICU)
Patients recovering from cardiac or thoracic surgery receive state-of-the-art critical care and monitoring at The Edna and Emanuel Taub Cardiothoracic Intensive Care Unit (CTICU). Located on the fifth and sixth floors of the Guggenheim Pavilion at The Mount Sinai Hospital, the highly specialized unit has 24 beds and cares for more than 1,800 patients each year.
Our staff of intensivists, who are skilled in specialties such ascardiac anesthesiology, cardiothoracic surgery, and critical care medicine, provide comprehensive, life-saving medical care for critically ill patients with diseases affecting the heart, lungs, and chest. Our intensivists work as part of a multidisciplinary treatment team that includes nurses, respiratory therapists, dieticians, physical therapists, social workers, and clergy members.
Total Artificial Hearts (TAHs)
The CTICU is certified by The Joint Commission to offer transplant and left ventricular assist devices (LVADs). We are the only hospital in New York City to offer total artificial hearts (TAHs), a device that is used to artificially support the heart which will help patients become strong enough to leave the hospital with a TAH in place.
Heart Failure Consult Services
The heart failure team is a consult service led by cardiologists that is available to all patients throughout the Mount Sinai Health System. Physicians on this team work with the intensivists in the CTICU to help care for our sickest patients, including those with artificial hearts, left ventricular assist devices, or those who are awaiting or recovering from heart transplants. Our team also continues to provide care for all patients even after they are discharged.
Nursing Care
Within the unit, our skilled nursing staff provides expert care for patients. Dedicated to being a leader in nursing care, Mount Sinai provides ongoing educational programs and certifications in advanced cardiac management, taught by nursing educators. In fact, more than half of the CTICU nurses have advanced certifications.
Our nursing staff is one of the few teams throughout the country trained to use cutting-edge cardiac devices, including inhaled nitric oxide, LVADs, and TAHs.
Nurses in the Cardiothoracic Intensive Care Unit specialize in helping patients recover from open heart and complex thoracic surgeries. They specialize in advanced hemodynamic monitoring and the care of patients using state-of-the-art technologies, such as extracorporeal membrane oxygenation (a treatment that uses a pump to circulate blood through an artificial lung back into the bloodstream), ventricular assist devices (an implantable mechanical pump that helps pump blood from the lower chambers of your heart to the rest of your body), and total artificial hearts.