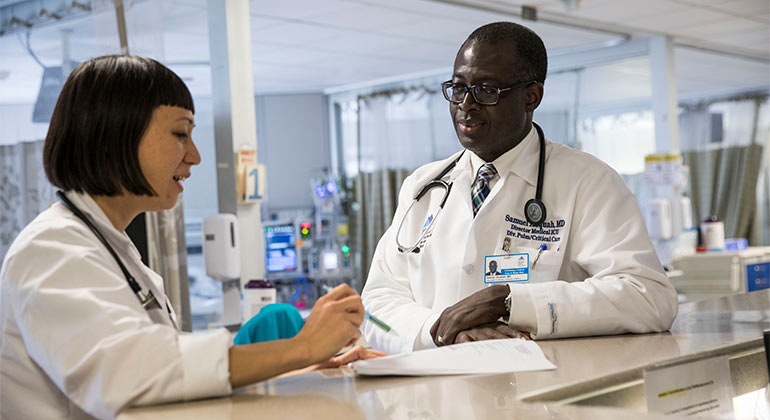 Medical Intensive Care Unit (MICU)
Each year, the Institute for Critical Care Medicine's Medical Intensive Care Unit (MICU) treats patients with critical medical illnesses, such as sepsis, respiratory distress, and liver disease. Located on the fifth floor of the Guggenheim Pavilion at The Mount Sinai Hospital, the MICU is run by intensivists who specialize in pulmonary and critical care medicine.
Since Mount Sinai offers extensive transplant services, our MICU specializes in caring for patients with acute and chronic liver failure as well as patients requiring liver, kidney, small bowel, and bone marrow transplants. We serve as a referral center for many area hospitals to assist in providing the higher level of care required for critically ill patients.
Medical Progressive Care Unit (MPCU)
The Medical Progressive Care Unit (MPCU) is a 10-bed intermediate care unit that provides monitoring and care to patients with moderate physiologic instability or who have the potential to develop severe physiologic instability if not attended to. These patients require a level of monitoring and care more intensive than is typically available on regular general wards, but not to the level of an intensive care unit (ICU).
The MPCU admits patients from all adult inpatient units, intensive care units, the Emergency Department, and the Post Anesthesia Care Unit (PACU). Examples of conditions commonly treated in the MPCU include acute respiratory failure requiring noninvasive ventilation, sepsis, GI bleeding, diabetic ketoacidosis, and other metabolic abnormalities that require frequent lab monitoring.
Team Approach to Care
Our physicians work as part of a multidisciplinary team with critical care nurses, patient care associates, respiratory therapists, physical therapists, social workers, case managers, and chaplains. We review current patients during our weekly multidisciplinary MICU meetings to provide better care and improve the quality of life for them and their families. Our unit also offers counseling services, case management, and spiritual guidance for patients as well as their loved ones. In addition, our fellows and faculty work in multidisciplinary teams to create evidence-based protocols and conduct research on sedation practices, delirium, and glycemic control.
Critical Care Research
We work closely with our colleagues in emergency medicine to find innovative ways to treat patients in crisis. As part of the multi-center PETAL (The Clinical Trials Network for the Prevention and Early Treatment of Acute Lung Injury) consortium of the National Heart, Lung, and Blood Institute, the MICU is partnering with the Emergency Medicine Department to conduct cutting-edge clinical research studies in the prevention and early treatment of acute lung injury.
The MICU, in conjunction with the Palliative Care Department, participated in a multi-center research study sponsored by the National Institutes of Health evaluating the effect of palliative care services in the ICU.