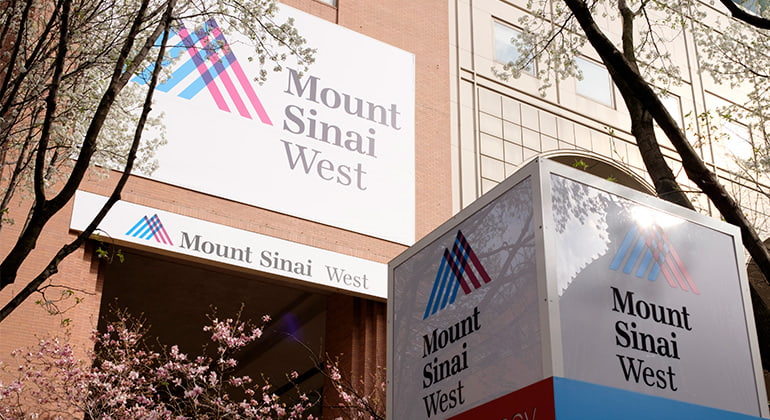 Neurosurgery
Mount Sinai West is ranked as High Performing in Neurology/Neurosurgery for U.S. News and World Report. We are particularly skilled with general brain and spine procedures, epilepsy surgery, stroke and cerebrovascular services, and intracerebral hemorrhage.
We have extensive experience performing Chiari malformation procedures, cerebrospinal diversions, intracranial hemorrhage evacuation, intrathecal pumps (for pain and spasticity), spinal cord and vagal nerve stimulation, cervical and lumbar disc replacement procedures, minimally invasive spine surgeries, and microdiscectomies, spinal fusions, and radiosurgery.
Our state-of-the-art technology includes the ROSA™ robotic surgical assistive device used for accurately mapping the source of epileptic seizures, and for surgical removal of the tissue causing the seizure. We use the MONTERIS Neuroblate™ system to perform minimally invasive laser treatment of epilepsy foci, which helps us reach difficult-to-access areas of the brain through a 2 mm burr hole. In addition, we have a dedicated neurosurgical intensive care unit at the hospital.
Our intracerebral hemorrhage (ICH) program is en route to becoming anIntracerebral Hemorrhage Center of Excellence for all of the Mount Sinai Health System. Whenever a patient with ICH enters a Mount Sinai hospital, we evaluate and transfer the person to Mount Sinai West. When possible, we perform minimally invasive clot evacuation. Dr. J Mocco is the Principal Investigator for a clinical trial to evaluate minimally invasive endoscopic ICH evacuation with a new, FDA-approved device called the Apollo System.
Our Doctors
Not only do we have state-of-the–art technology, but our doctors are well-known for their experience and expertise.
Saadi Ghatan, MD
Site Chair of Neurosurgery at Mount Sinai West and Mount Sinai St. Luke's
Pediatric Neurosurgery, Epilepsy
Fedor E. Panov, MD
Associate Director of the Adult Epilepsy Program, Neuromodulation, General Neurosurgery of the Brain and Spine