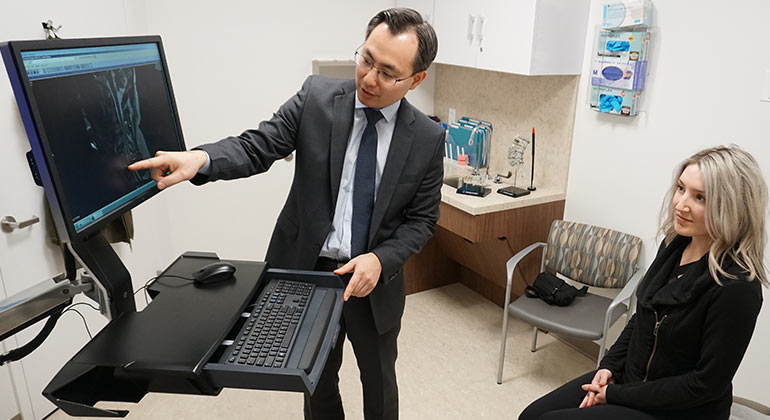 Back or neck pain can be debilitating, and affect many aspects of your daily life. Mount Sinai West spine experts have vast experience treating the full spectrum of conditions affecting the spine, ranging from your lower back (lumbar spine) to your neck (cervical spine). Many spine conditions can be treated non-surgically, but when surgery is the best option to treat your condition, we emphasize minimally invasive procedures whenever possible. We also regularly perform complex reconstructions to treat severe spinal deformities and scoliosis.
For non-surgical spine care, we offer an interventional spine physiatrist with expertise in pain management, sports medicine and osteopathic manipulative medicine.
Mount Sinai West also offers pediatric spine care, with our spine specialist Samuel Cho, MD, participating in the Mount Sinai Health System's Young Spine Program.
If you need spine surgery, you can choose Mount Sinai West with confidence.
Conditions Treated
Our goal is to correct your spine condition and help you safely return to your usual activities. We specialize in the treatment of degenerative, acute, and congenital spinal disorders, including such problems as:
Compression fractures
Herniated discs
Myelitis or myelopathy
Osteoarthritis
Sciatica
Scoliosis
Spinal stenosis
Spinal tumors
Spondylolisthesis
Traumatic injuries and fractures
Non-Surgical Treatment Options
The majority of spinal conditions may be managed non-surgically. You can benefit from a variety of non-surgical approaches:
Oral medications, such as non-steroidal anti-inflammatory drugs, analgesics, muscle relaxants, and other pain-relieving drugs, can help reduce inflammation and pain.
Rehabilitation spine therapy helps with postural misalignment and muscle imbalances. We create specialized physician guided exercise programs to strengthen the supportive muscles of the spine, and can teach you relaxation exercises and proper lifting techniques.
Education about your diagnosis and prognosis is key to improved satisfaction and outcomes. We can assist you in changing your daily activities to decrease any further damage and improve your quality of life.
Injection therapy is usually a combination of local anesthetic and/or steroid drugs, administered with fluoroscopic (X-ray) or ultrasound guidance, around nerves or into other joint spaces. Injection therapy is used for management of pain, by decreasing inflammation or disrupting the nerve signals. A diagnostic block is used to help identify the pain generator and improve the specificity of your treatment plan. Examples of injection therapies include:
Epidural steroid injection
Selective nerve root block
Facet joint injection
Diagnostic nerve block
Sacroiliac joint injection
Peripheral joint injection
Trigger point injection

Radiofrequency ablation is a non-surgical minimally invasive outpatient procedure that uses electrical current to heat neural tissue and alleviate chronic joint pain.
Neuromodulation uses an implantable spinal cord stimulator (a pacemaker-type device) that can alter nerve signals to reduce chronic pain and improve function.
Regenerative medicine, uses your own bodies' cells and/or plasma to modulate inflammation, support healing and restore function. Currently experimental with research supporting a strong safety profile.
Surgical Treatment Options
If surgery is the best option to relieve your condition, we use minimally invasive surgical techniques whenever possible, which results in less tissue damage, decreased pain, and a faster recovery. Our expert spine surgeons have vast experience in in the following procedures:
Discectomy, one of the most commonly performed spinal procedures, involves removing part of a herniated disc in order to relieve pressure and irritation on the spinal nerves.
Laminectomy, used to help repair numerous spine conditions, consists of removing the lamina (the bony roof over the spinal nerves) at the location where the nerves are being irritated.
Kyphoplasty and vertebroplasty are minimally invasive procedures that treat spinal compression fractures. They usually result in the restoration of spinal height, increased spine stability, and significant relief of pain.
Scoliosis correction includes a variety of techniques to straighten spinal curvatures.
Disc replacement may be an option if you have severely deteriorated spinal discs.
Spinal fusion treats spine instability due to infection, arthritis, tumors, or trauma, and can correct deformities such as scoliosis. Spinal fusion involves fusing two or more spinal vertebrae together with a bone graft to create a stable segment of bone.
Spine Surgery Doctors
Spine Physiatry - Physical Medicine and Rehabilitation