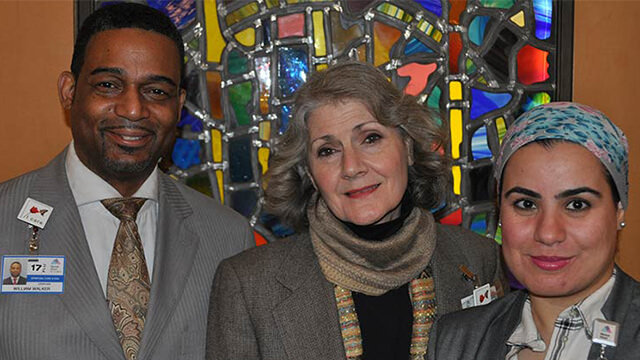 The Spiritual Care & Education Department of Mount Sinai West offers the support of highly trained chaplains for patients, their families, and caregivers during the unique challenges, uncertainties, and crises of hospitalizations. However you define your spirituality, our multi-faith staff is always ready to meet your emotional and faith-related needs with sensitive, respectful, and inclusive responses.
The scope of our services includes:
One-on-one spiritual and emotional support
Prayer, blessings, and rituals
Religious literature
Contact with your or your family's faith community for sacramental services
Counsel, as requested, in ethics consultations
Please contact us whenever you, as patient, family or caregiver:
Feel alone with the burdens and issues of a diagnosis
Do not have supportive family, friends or a faith group available
Are preparing for a procedure or facing a surgery
Have received a serious or unexpected diagnosis
Are struggling with a treatment decision
Are currently suffering from or have a history of trauma
Are carrying grief, guilt, fears or other emotions that may affect the course of healing and recovery
Are struggling to find meaning in your situation
Are struggling to find or maintain hope
Wish counsel from someone of your faith tradition
Additional Spiritual Care & Education Accommodations at Mount Sinai West
A multi-faith chapel, located on the second floor, is open at all hours, for respite and spiritual reflection or meditation. The space is also used for daily Muslim prayer, Jewish High Holiday services, and seasonal Christian services.
A bikur cholim room, located on the second floor, Room 2B-31, is open to patients' loved ones and caregivers at all hours for respite or light meals; Shabbos and High Holiday foods also provided.
Volunteers from Lincoln Square Synagogue visit every Saturday.
Kosher food for patients is available through Food & Nutrition Services. (Please consult with your physician before requesting.) For visitors, kosher food options are available in the One West Restaurant on the first floor, and at Café 58 in the main lobby.
Contact Us
To arrange a visit, you may ask your nurse to contact your unit's chaplain.
The Spiritual Care & Education Department can be reached at 212-523-6920.