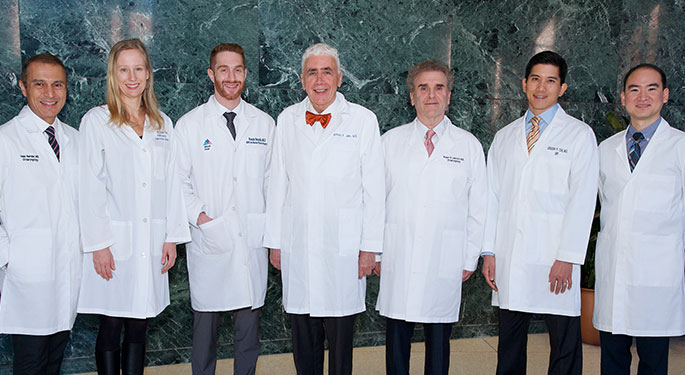 Mount Sinai West's board certified otolaryngologists and head and neck surgeons treat a broad spectrum of conditions affecting the ear, nose and throat. Their expertise ranges from routine care for ear infections and tonsillitis to more complex cases of oral and thyroid cancers. This also includes unique areas of specialization, such as autoimmune disorders, vasculitis, facial plastics, sleep surgery, scuba diving medicine, balloon sinuplasty and Eustachian tube dilation, and acupuncture for certain head and neck conditions.
The Department of Otolaryngology – Head and Neck Surgery works in a multidisciplinary approach. Our physicians closely collaborate with other Departments and Divisions, such as Primary Care, Cardiology, Dermatology, Pulmonary, Neurology, Neurosurgery, Pediatrics, Thoracic Surgery and more. Patients benefit from multiple experts and seamless communication among their physicians.
Conditions We Treat
Mount Sinai West otolaryngologists treat a wide variety of ear, nose, and throat conditions, including:
Hearing loss and balance disorders
Ear disorders and infections, including earache, earwax, and swimmer's ear
Nose and sinuses disorders, including acute and chronic sinusitis and nasal obstruction
Smell and taste disorders
Snoring, obstructive sleep apnea, and other sleep disorders
Disorders of the throat, adenoids, and tonsils
Speech and swallowing problems
Disorders of the larynx and vocal cords
Thyroid conditions
Autoimmune and inflammatory diseases of the head and neck, such as Sjogren's disease, Wegener's disease, sarcoidosis, and tracheal stenosis
Tinnitus
TMJ (temporomandibular joint) dysfunction
Vertigo and Meniere's disease
Oral, larynx, and thyroid cancers
Traumatic injuries to the head and neck, including barotrauma from scuba diving
Specialty Services
Specialty services at Mount Sinai West are also available when you or a loved one visit our otolaryngologists. These services encompass: speech language pathology (speech and swallowing evaluations), audiology, home sleep testing, and balance/vertigo testing.
Additionally, two physicians, Dr. Anthony Jahn and Dr. Isaac Namdar, specialize in medical acupuncture for various ear, nose and throat disorders. This treatment is offered for conditions such as TMJ dysfunction, voice concerns, nasal congestion and allergies, and tinnitus. Learn more about our physicians, located in Midtown West Manhattan:
Dr. Anthony Jahn, general ENT with a focus on hearing and balance, voice disorders and acupuncture
Dr. Isaac Namdar, general ENT and acupuncture
Dr. Noah Sands, general ENT and facial plastic and reconstructive surgery
Dr. Gregory Tsai, general ENT with a focus on sleep surgery, scuba diving medicine, and balloon sinuplasty/Eustachian tube dilation
Dr. Calvin Wei, rhinology and skull base surgery
Same Day Appointments at Mount Sinai West
The Department of Otolaryngology – Head and Neck Surgery at Mount Sinai West understands that various types of appointments may require rapid scheduling. Our physicians and audiologists participate in Mount Sinai's Same Day Appointment Program Monday through Friday. Appointments may be made by calling 844-463-2778. Referring physicians can also make rapid/same day appointments by calling 800-TO-SINAI. For more information, visit the Same Day Appointment Program at the Department of Otolaryngology – Head and Neck Surgery.