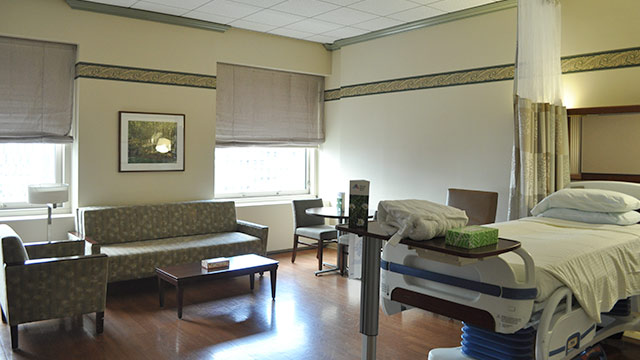 Latest COVID-19 Visitor Policy
At Mount Sinai West, we want to help you and your loved ones feel as comfortable as possible. Our 14B Deluxe Hospital Accommodations wing has 17 private rooms, for patients, that offer deluxe amenities in an appealing environment, while providing the high-quality medical care for which Mount Sinai West is renowned.
Creating a quiet, healing environment
The suites are available at an additional charge, and can be reserved before or during a hospital stay. Non-surgical patients can be admitted directly on the 14B Unit. Surgical patients can drop off their belongings at 14B, before reporting to the fifth floor surgical reception suite, if the room is available. The private and attentive services we offer help to create a quiet, healing environment.
Hospital Rooms/Suites
Private, graciously furnished patient rooms and suites with marble bathrooms
Admission and check-out process for most patients in the privacy of their own room
An in-room electronic safe
Room service
Gourmet meals prepared by our expert culinary staff
An in-room refrigerator stocked with juices and bottled water
Hospital Services/Amenities
Concierge Services
Complimentary parking upon admission and discharge
A complimentary basket of personal grooming items
Entertainment
For rates, other information, or to make a reservation, please call 212-636-4600. Reservations can be made from 7 am to 11 pm, seven days a week.