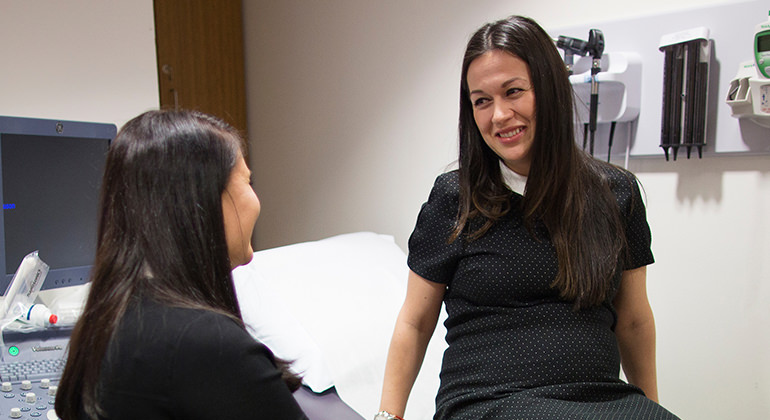 Obstetrics, Gynecology, and Reproductive Services at Mount Sinai West
At Mount Sinai West, our dedicated, expert group of physicians, midwives, nurses, and other clinical staff offers a full range of women's gynecology, obstetric, and reproductive health services, including complete pregnancy and newborn care. Our physicians are affiliated with the Icahn School of Medicine at Mount Sinai, teach and train new physicians, and participate in research to expand evidence-based diagnosis and treatment options.
Our many general obstetrician-gynecologists are trained to provide comprehensive gynecologic, prenatal, and normal obstetric care. Highly experienced certified nurse-midwives are also available to perform normal obstetric and gynecologic care, and can attend births in Mount Sinai West's Labor and Delivery Suite.
Our Division of Maternal-Fetal Medicine (MFM) is a team of specialists who have expertise in high-risk pregnancies. You might have a high-risk pregnancy if you have a pre-existing medical condition such as diabetes, or a condition that may arise during pregnancy, such as preterm labor or high blood pressure. Your general obstetrician may consult with a high-risk pregnancy specialist about your care, and if needed, refer your obstetric care to the Maternal Fetal Medicine (MFM) practice office. For those with diabetes, the Maternal-Fetal Medicine practice offers a dedicated diabetes nurse educator and nutritionist.
Our Reproductive Endocrinology and Infertility Division provides services at Reproductive Medicine Associates of New York–Westside, offering comprehensive reproductive health care treatment, including help with infertility, in vitro fertilization, recurrent pregnancy loss, and all hormonally related health problems.
The Gynecologic Oncology Division provides complete and integrated services for the diagnosis and treatment of gynecologic cancers and precancerous conditions, and offers the latest minimally invasive surgical options. Minimally invasive surgery is as safe and effective as open surgery but produces less scarring, shorter hospital stays and recovery time, and fewer potential complications than traditional surgery. Our highly trained subspecialists also provide surgical treatments for complex non-cancerous gynecologic conditions.
The Urogynecology and Pelvic Reconstructive Surgery Division's specialists have advanced training in diagnosis and treatment of pelvic floor disorders, including bladder control problems, fecal incontinence, and the dropping or falling (prolapse) of the uterus, bladder, rectum, and vagina.
Ultrasound and Evaluation Services
Our genetics, ultrasound, and maternal-fetal evaluation suites provide state-of-the-art screening and diagnostic testing services. The Genetics Division offers complete prenatal genetic testing and counseling. The Ultrasound and Evaluation Center screens for and diagnoses all maternal, fetal, and gynecologic conditions using the latest technology, and test results are interpreted by our maternal-fetal medicine specialists. We perform comprehensive testing for fetal anatomy; biophysical testing for fetuses and babies in utero; pregnancy record taking; gynecologic evaluations, including hysterosonograms; and pulse and color Doppler imaging.