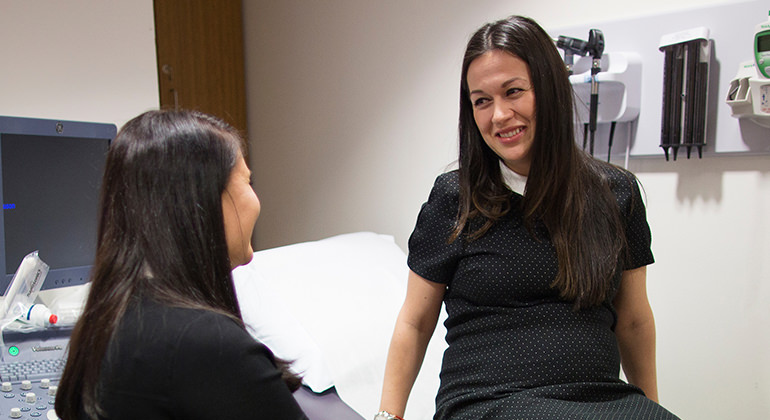 Pregnancy and Birth
At the Mount Sinai West Obstetric Service, we are enthusiastic about sharing the birthing experience with you. From the time you begin planning your pregnancy until you and your infant arrive home, we offer complete, individualized care by our highly skilled team of obstetricians, midwives, and maternal-fetal medicine specialists. Mount Sinai West is home to Manhattan's first in-hospital Birthing Center, located one floor away from our complete, state-of-the-art Labor and Delivery Suite. Together, these facilities allow us to offer many options along with great flexibility and safety in the birthing process. Maternity tours of all birthing and postpartum care suites are available. Call 212-523-6091 for dates. You do not need to register for a tour.
Getting Started
When you decide you would like to give birth at Mount Sinai West, the first step is to choose a physician from among those on our obstetrics faculty or a midwife from one of the organizations who affiliate with us. Our faculty of physicians includes a long list of top-notch general obstetricians, as well as maternal-fetal medicine specialists who focus on high-risk pregnancy. If you would like to use our Birthing Center, your chosen provider must first agree to perform the delivery there.
Maternity Guidebook for Expectant Parents
The Department of Obstetrics and Gynecology offers a guidebook for parents planning to deliver a baby at Mount Sinai West. Developed through collaboration between obstetricians, midwives, maternal-child health nurses, and administrators, "Giving Birth at Mount Sinai West" is available online and in printed form in your obstetric provider's office.
Mount Sinai West's Labor and Delivery Suite
The Mount Sinai West Labor and Delivery Suite has private birthing rooms, attractively decorated and with a television and telephone in every room. Each room boasts a panoramic view of midtown Manhattan or the Hudson River. Our labor floor is continuously staffed by a team of obstetricians who are there to assist your personal doctor or midwife. In addition, at least one specialist in high-risk pregnancy is always available.
Our anesthesiologists can offer you a variety of pain relief options during labor and delivery. We use epidural analgesia, which reduces pain while allowing you to participate fully in the labor process. Among other pain relief options, we are one of only three or four hospitals in the United States to offer nitrous oxide, or laughing gas.
The Mount Sinai West Labor and Delivery Suite is equipped with state-of-the-art technology, including a central fetal monitoring unit allowing your providers to watch from anywhere on the floor. Three operating rooms are located on the floor, and behind them, the high-level neonatal intensive care unit (NICU). Services from neonatologists are available 24 hours per day, seven days per week.
Postpartum Units
After you give birth in our labor and delivery suite and before you leave the hospital with your baby, a member of the caring and experienced postpartum nursing staff will monitor your physical progress in one of our postpartum units. Your nurse teach aspects of baby care, breast care, and self-care to you and your family. We place a special emphasis on breastfeeding, early childhood education, and emotional support. Most of our postpartum nurses and NICU nurses are nationally or internationally certified lactation consultants.
You may choose to pay extra for a private postpartum room. If you decide to have a private postpartum room, your baby's father or your significant other may spend the night in the room.
Newborn Nurseries and Neonatal Intensive Care Unit (NICU)
Most of the time, your baby can stay in your room with you or in our newborn nursery. If unexpected circumstances arise, such as an infant who is born prematurely or sick, our neonatal services are available 24 hours per day, 7 days per week.
We provide a safe, secure environment for you and your baby. This includes a locked nursery and locked postpartum units with security cameras. In addition, all visitors must sign in and out of the postpartum units to ensure the safety of our families.
Our NICU is equipped with advanced electronic monitoring devices, mechanical ventilators, and incubators staffed by our nurses, respiratory therapists, and other medical personnel.
Online Pre-Registration for Childbirth
Please register for obstetric admission. Be sure to have your insurance information.
Once on the registration page, please sign up for a new account, and then sign in. The site will guide you through all the required forms, including documentation of your insurance coverage. If you begin the process and find you are missing information, you can always return and start again. After submitting your form, you will receive confirmation of your preadmission.