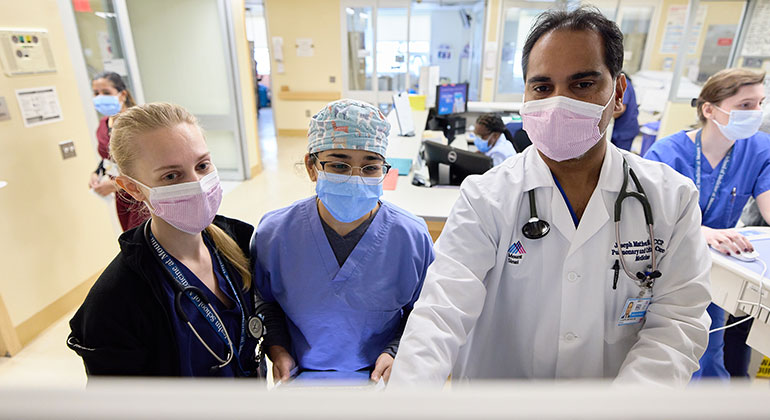 Mount Sinai West Medical/Surgical Intensive Care Unit
At Mount Sinai West's Medical/Surgical Intensive Care Unit (M/SICU), we treat patients with critical illness and those who need intensive care monitoring after surgery. We address a wide range of medical conditions including sepsis, shock (low blood pressure), hemorrhage, pneumonia, respiratory failure, kidney failure, congestive heart failure, and hematological and neurology emergencies. On the surgical side, we treat conditions such as a perforated ulcers, gastrointestinal ischemia or bleeding, skin and soft tissue infections, abdominal compartment syndrome, and obstetric emergencies. We also care for patients who need close monitoring and treatment after complex procedures such as vascular, thoracic, oncologic, and orthopedic surgeries.
Our M/SICU has the latest in critical care technology and equipment. We have machines for continuous renal replacement therapy, targeted temperature management, disposable bronchoscopes, and videolaryngoscopes. We can bring ultrasound right to the bedside for rapid assessment and treatment. And, because we are associated with the Icahn School of Medicine at Mount Sinai, we offer the latest therapeutics, protocols, innovations, and approaches to care. We have private rooms for up to 23 patients.
Our Team
Our team works together to provide the best possible care. Staff includes critical care certified doctors who specialize in critical care, pulmonology, anesthesiology, general surgery, and internal medicine. We also have intensive care unit-advanced life support certified registered nurses and aides, respiratory therapists, physical therapists, dieticians, and speech language pathologists.
We work closely with many subspecialists at Mount Sinai West, including cardiologists, interventional radiologists, anesthesiologists, surgeons, and infectious disease specialists. We consult with other hospital staff, including hospital chaplains, social workers, and patient relations experts. Telemedicine is available. This means that if we need to speak with a specialist at another Mount Sinai site, we can bring a robotic device to the bedside for easy consultation.
The M/SICU team works closely with the hospital's palliative care services to help people with prolonged critical illnesses. We try to ease symptoms, talk with you and your family about goals for care, and address end-of-life issues.
We work closely with our patients' loved ones, and provide daily updates. We coordinate with social work, spiritual care, patient relations, and other departments to provide as much support as possible.
Rules for Visitors
Due to COVID-19, our visitor rules change periodically. Please reach out to us at 212-523-4000 or visit here for current rules.