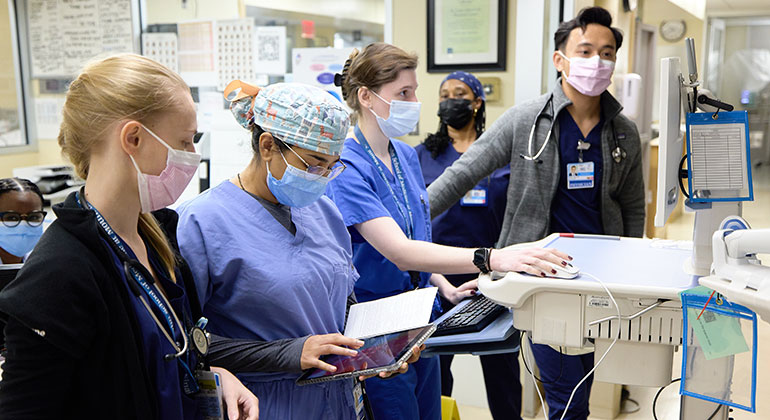 Mount Sinai West Neurosciences Intensive Care Unit
The Neurosciences Intensive Care Unit (NSICU) at Mount Sinai West is a 14-bed unit. It is one of two ICUs dedicated to neurological and neurosurgical patients at the Mount Sinai Health System. Our staff includes neurointensivists, advanced practice providers, specialty-trained nurses, social workers, rehabilitation therapists, spiritual care specialists, and other support staff.
We treat a wide range of conditions, including:
Acute ischemic stroke
Anoxic brain injury
Brain tumors
Intracerebral hemorrhage
Neuromuscular disorders, including myasthenia gravis and Guillain-Barre syndrome
Recovery from neurological surgeries and/or complex ear, nose, and throat procedures
Status epilepticus
Subarachnoid hemorrhage
Traumatic brain and spinal cord injuries
Special Services
At Mount Sinai West's NSICU, we have several highly advanced services available. These include:
Intracranial Hemorrhage (ICH): This dedicated center for ICH care in the Mount Sinai Health System performs highly advanced procedures using minimally invasive clot evacuation, and is also an active site for numerous surgical and medical clinical trials for ICH care.
Level 4 Epilepsy Center: Offers a complete evaluation for epilepsy surgery, including the most complex forms of invasive neurodiagnostic monitoring, intracranial electrodes, and a broad range of surgical procedures for medically refractory epilepsy.
Center for Neuromodulation: One of the busiest neuromodulation centers in the United States, this center offers deep brain stimulation for treatment of movement and psychiatric disorders.
Rules for Visitors
Due to COVID-19, our visitor rules change periodically. Please reach out to us at 212-523-4000 or visit here for current rules.