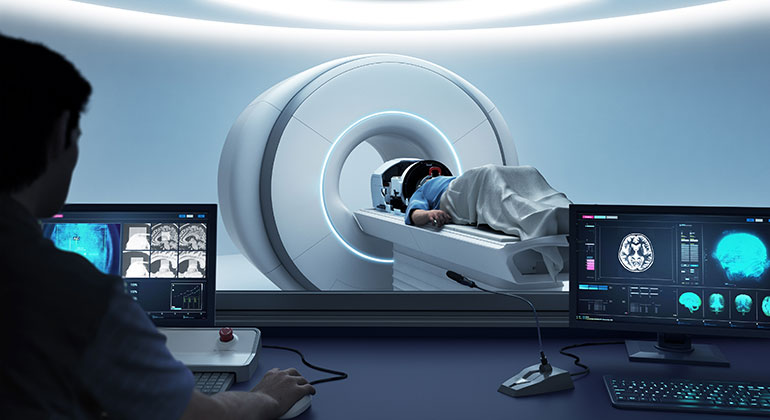 MR Guided Focused Ultrasound
An Incisionless Treatment for Essential Tremor
MR Guided Focused Ultrasound (FUS) is a treatment for essential tremor or tremor-dominant Parkinson's disease patients who have not responded to medication. Requiring no incisions, permanent implants, or radiation exposure, it uses focused sound waves guided by MRI to pass through skin, muscle, fat, and bone to treat deep in the brain.
How Does the Procedure Work?
During the procedure, ultrasound waves are focused on a small point in the brain--passing safely through the skull without the need for an incision. The temperature at the target rises high enough to create a microscopic ablation or burn, providing a therapeutic effect.
Where Does the Procedure Take Place?
The whole procedure is conducted inside of an MRI scanner at Mount Sinai West. Serving as the "eyes" of the treatment, the MRI enables your physician to plan, guide, and precisely target the area for treatment. It also acts like a thermometer, providing continuous temperature monitoring to verify that only the targeted tissue is destroyed.
Will My Tremors Go Away?
Based on the current scientific literature, most patients get a 50 to 80 percent reduction in tremor maintained for up to three years.
Is This Treatment Right for Me?
To determine if MR Guided Focused Ultrasound treatment is right for you, please make an appointment with the Center for Neuromodulation for a consultation.
For more information or to schedule an appointment with Movement Disorder Specialists Dr. Fiona Gupta or Dr. Joohi Shahed, please call 212-523-8335.