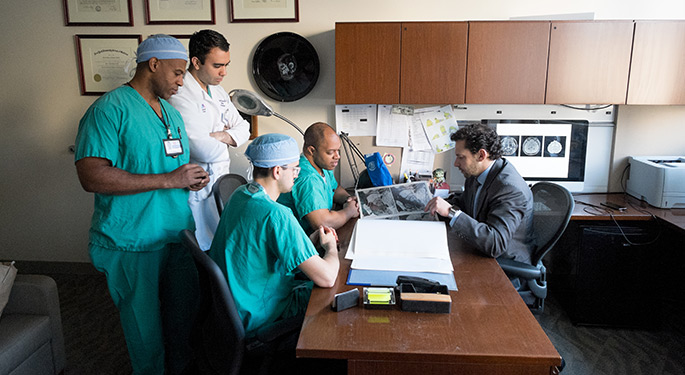 Deep Brain Stimulation Second Opinion and Correction Assessment Clinic
We have the busiest neurosurgical center in the northeast focusing on Deep Brain Stimulation (DBS). If you were told that you are not a good candidate for the procedure, or if you had DBS surgery elsewhere and are unhappy with the results, we can offer a second opinion, and maybe a second chance at a normal life. We believe that everyone should get a second option.
Our experienced, multidisciplinary team is familiar with diagnosing, treating, and troubleshooting the most complex and challenging conditions including Parkinson's disease, essential tremor, dystonia, obsessive-compulsive disorder, and major depression. We cater to people in the area, around the country, and around the world who are seeking the best in surgical and neurological treatments for movement disorders.
Our doctors are not only expert clinicians but are also world-class academic educators. As professors in one of the most desirable fellowship and residency programs in the world, Brian H. Kopell, MD and our expert teams manage clinical trials, drive breakthrough research, innovate new technology, and set the bar for the standard of care for other DBS neurosurgical programs around the world.
We make getting a second opinion fast and easy. We may also be able to help with DBS correction or lead replacement adjustment surgery if you have had the procedure but are not happy with the results. Contact us at 212-523-8340 to schedule a second opinion consultation. Here are the steps to the process:
Send any applicable notes, radiological images, and On/Off Testing results (if applicable) to our office for review.
Our team will review your documentation and schedule a consultation with one of our movement disorder neurologists.
We will let you know what we think is the best cause of action for your particular case.