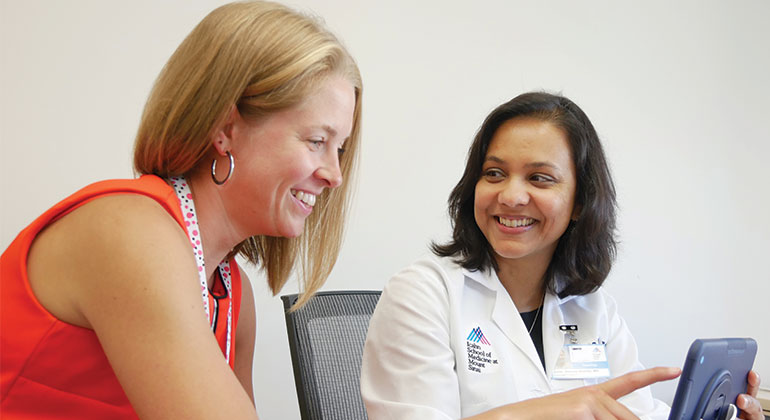 Highly regarded for our superior research and patient care, the Mount Sinai West Department of Neurology offers our community comprehensive diagnostics and leading-edge treatments for a range of conditions affecting the brain, spinal cord, peripheral nerves, and muscles.
We provide patients with unparalleled care in general neurology and neurosurgery. Our department has a particular focus in pediatric neurology and developmental disabilities, and hosts the Center for Neuromodulation ,where we treat a wide range of movement disorders including epilepsy, dystonia, essential tremor, Parkinson's Disease and more.
Understanding the unique nature of many pediatric conditions and their impact on a child's developing system, our highly trained specialists are expert in identifying neurologic and developmental disabilities early, so children have the opportunity to reach their full potential.
Our Department is also known for its expertise in neurophysiology and stroke, offering a state-of-the-art Stroke Center that has earned recognition as a designated stroke center by the New York State Department of Health. Our neurologists work hard to ensure that those who have suffered a stroke achieve the most complete recovery, and those at risk for stroke get the preventive care they need to stay healthy.
Our Department of Neurology draws on this range of experience, as well as new insights gained through innovative research, to provide the best possible neurologic care to patients of all ages.
Essential Tremor
Essential tremor is a neurological condition, which causes a trembling of the limbs (hands, legs, head, voice or trunk). Often confused with Parkinson's disease, essential tremor affects more than 10 million Americans in the country. This condition can cause extreme difficulty with daily activities such as writing, getting dressed and eating. Learn more about treatments for essential tremor including medication, Deep Brain Simulation and MR Guided Focused Ultrasound.
Parkinson's Disease
A progressive nervous system disorder, Parkinson's disease affects movement. Symptoms of the disorder start gradually and cause stiffness or slow movement. The symptoms of Parkinson's disease worsen over time as your condition progresses. While Parkinson's disease does not currently have a cure, medications may help improve your symptoms and quality of life. Learn more about other treatments for tremor dominant Parkinson's disease including Deep Brain Simulation and MR Guided Focused Ultrasound.
Treatment
Mount Sinai offers the latest treatments for essential tremor and tremor-dominant Parkinson's Disease patients who have not responded to medication. Learn more about FUS, an incisionless treatment that uses sound waves, guided by MRI, to dive deep into the brain.