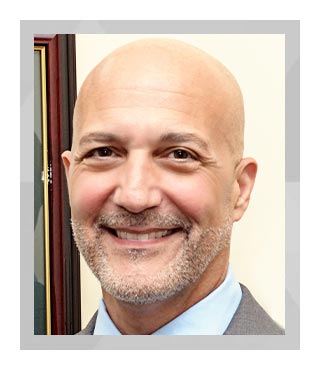 Todd Ambrosia, DNP, MSN, APRN, FNP-BC, FNAP, serves as Vice President of Nursing Academic Affairs, Mount Sinai Health System, and Dean of the Phillips School of Nursing at Mount Sinai Beth Israel. He is a Distinguished Fellow of the Academy of Nursing of the National Academies of Practice, and a Bravewell Fellow in Integrative Medicine. He was recently selected as a Wharton Executive Leadership Fellow by the American Association of Colleges of Nursing.
Dr. Ambrosia has broad professional experience in academic and clinical advanced practice nursing. His academic health care career spans more than 20 years, with previous positions as the Associate Dean for Graduate Programs and Associate Professor of Clinical at the University of Miami School of Nursing and Director of the Division of Family Primary Care and Assistant Professor at the University of Maryland School Of Nursing. While at the University of Maryland, Dr. Ambrosia was the Faculty Liaison to the Foreign Medical Service, Office of Medical Services, U.S. Department of State, where he provided consultation and clinical education for physicians and nurses working at U.S. embassies worldwide. He has a research and clinical interest in integrative medicine, having completed a Fellowship at the University of Arizona School of Medicine.
A board-certified family nurse practitioner, Dr. Ambrosia is active clinically in adolescent and young adult primary care. He has been a long time Faculty Ambassador to the National Health Service Corps, U.S. Department of Health and Human Services, and is active in several professional organizations, including the American Academy of Nurse Practitioners and the International Council of Nursing. Dean Ambrosia has clinical, research, and academic collaborations with universities in Italy, Taiwan, Colombia, Belgium, India, and Malaysia. A staunch advocate for global health promotion, he regularly provides volunteer clinical services to underserved adolescents and young adults in high need areas across the country and around the world.