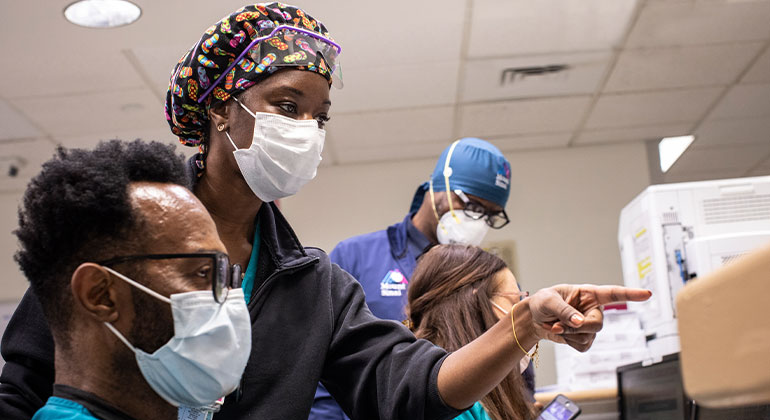 Emergency Department Nursing Fellowship
The front line of our front-liners is, without doubt, our Emergency Department. If you are looking to make an impact, the Mount Sinai Emergency Department Nursing Fellowship may be for you. Our health system is a microcosm of New York City itself—culturally, economically, and ethnically diverse. You will be prepared to handle a broad spectrum of acute patient needs, from cardiovascular emergencies to stroke to trauma.
Our 24-week program includes simulations, online modules, and hands-on training through clinical rotations. You will be paired with an experienced staff ED RN to help you build relationships, knowledge, and skills in the department and serve as a trusted resource. In addition, your career advancement and transition will be guided by our nurse preceptors, who provide focused training for skills and a wealth of experience.
Requirements
Candidates must have:
Bachelor of Science in Nursing (BSN)
Must have successfully passed the NCLEX before the cohort start date
Satisfactory interview with a recommendation for hire from a Mount Sinai Health System manager
Commitment for a 2 year work engagement
GPA of 3.2 or higher
A strong interest in a career path as an Emergency Department nurse
A license to practice as an RN in the State of New York
Submitted a resume to Robin.Ferrer@mountsinai.org.
How to Apply
We are continually seeking out committed nursing professionals who are passionate about making a difference at one of the most crucial times in our patients' lives—in the Emergency Department. For more information, please email Robin.Ferrer@mountsinai.org.
Curriculum
For 2023, the cohorts will start the weeks of March 6th, August 7th, November 13th.
From orientation through debriefing, our 24-week curriculum will prepare you for the demands of a fast-paced, high-performing emergency department.
New Beginnings/Central Nursing Orientation
Simulations of Basic ED Skills including:
Oxygenation
IV insertion
Foley placement
Medication administration
Sepsis care
Stroke
STEMI
Cardiac arrest
Cardiac Dysrhythmia Training
Life Support Certification: BCLS, ACLS, PALS, and TNCC (Trauma) as applies
Emergency Room Orientation and Rotations
Participants will serve 12-hour shifts
In-Patient Unit Training including:
Ventilator care
Wound care
Tube feedings
Focused Simulations including:
OBGYN
Pediatrics
Massive transfusion protocol
Respiratory emergencies
Critical Care Unit Training including:
Ventilator management
Continuous infusions
Care of the critically ill patient
Pediatric Unit Training
In-Person and Virtual Classes including:
Stroke education
Basic mechanical ventilation
End-of-life care
Behavioral health emergencies
OB emergencies
Pharmacy review
Non-Clinical Learning Opportunities
Emotional intelligence
Cultural sensitivity and anti-bias training
Patient experience
Debriefing Opportunities including:
Post simulations
Clinical event reviews