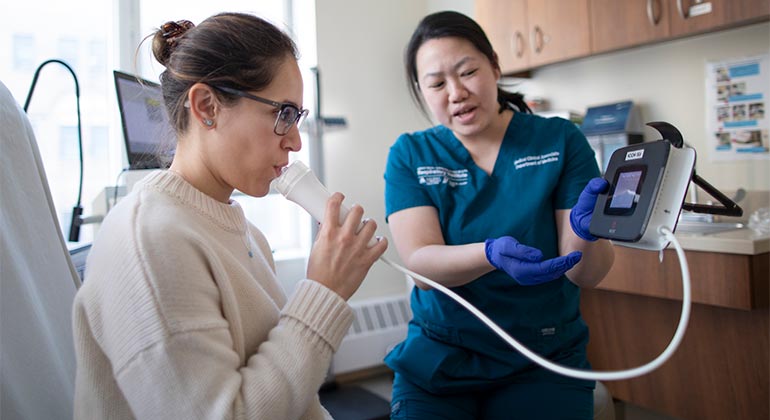 Mount Sinai nurses not only deliver the best possible patient care—they innovate ways to improve it. Our frontline nurses are engaged in evidence-based practice and implementation science, which translates research findings into better outcomes, improved quality of life, and more effective disease prevention for patients throughout New York and around the globe.

Mount Sinai understands that clinical nurses at bedside and chairside are the eyes and ears of the Health System, and therefore uniquely positioned to identify protocols and practices that best support patient health. Nurses' holistic perspective of patient care—comprising not just physical health, but also mental health, family support, and more—enables us to research aspects of care that are often overlooked but crucial to patients' complete well-being. As deeply experienced professionals, Mount Sinai nurses are committed to innovation and evidence-based practice in pursuit of the best possible outcome for every single patient.
Center for Nursing Research and Innovation
The Mount Sinai Health System's commitment to advancing nursing science is embodied in our Center for Nursing Research and Innovation, which supports rigorous federally funded research led by nurse scientists at Mount Sinai. As one of the only nursing research centers within a medical school, the Center for Nursing Research and Innovation facilitates multidisciplinary translational research to improve patient care and strengthen the profession of nursing through innovation, collaboration, and the application of research to everyday nursing practice.

Always keeping our patients' wellness as our top priority, our goal is to create and transform scientific discoveries into innovative strategies for superb, evidence-based, patient-centered care.