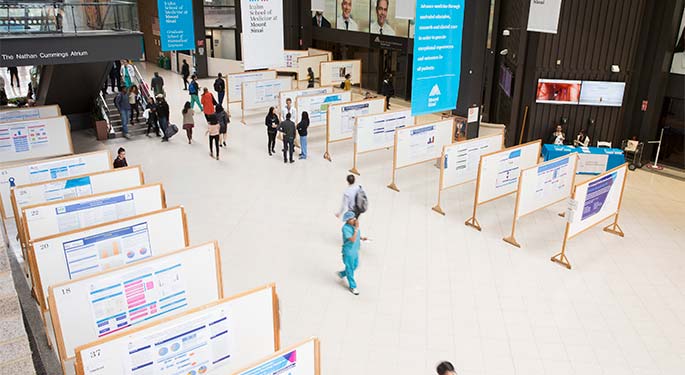 Center for Nursing Research and Innovation
One of the only nursing centers in the country established within a medical school, the Center for Nursing Research and Innovation (CNRI) formalizes an already strong relationship between Mount Sinai nurses and physicians. The CNRI facilitates multidisciplinary translational research programs that emphasize patient care and strengthen the profession of nursing through innovation, collaboration, and the application of research into everyday nursing practice. Having nurses actively involved in translational research may expedite bench-to-bedside discoveries for improving patient care outcomes. In this capacity, the quality of nursing and patient care outcomes throughout the Mount Sinai Health System – and at hospitals within the U.S. and globally – is enhanced significantly.
Inquiry and science are fundamental to raising the bar in nursing practice, improving the patient experience, and enhancing patient outcomes. The CNRI provides our nurses with an academic framework designed to promote and support the advancement of their research interests. As important, within the CNRI, nurses can serve as integral members of translational research teams, bringing patient-oriented issues to the table and facilitating the rapid translation of results back into clinical practice. A future goal is to establish a Center for Symptom Management.
The unique bond between The Mount Sinai Hospital and Icahn School of Medicine enables our faculty and staff to participate in both the discovery and delivery of the most advanced medical care. The CNRI reflects the close collaboration of our nurses and physicians in innovative research and superior patient care.
Mission and Vision of the CRNI
Mission: To create and transform scientific discoveries into innovative strategies for exemplar evidence-based patient-centered care.
Vision: To facilitate a strong nurse-led collaborative research-intensive community with a focus on providing evidence-based health care grounded on outcomes of rigorous scientific research.
Through the infrastructure of the CNRI, a robust program of nursing research is being developed. Rigorous scientific studies are submitted for Federal, Regional, Foundational, and Institutional funding. The CNRI nurse scientists provide guidance in proposal development, pre- and post-grant award management, institutional review board (IRB) process, data safety and monitoring, and dissemination of findings. In addition, several programs and venues foster professional development in research and EBP as follows:
Research Assistant Program
EBP Fellowship Program
IRB proposal development
Mock grant reviews
Monthly "Workshop Wednesdays"
Manuscript development
Podium and poster presentation preparation
Annual Nursing Research Day
The Mount Sinai Research Assistant Program is a unique experience that we offer to current Nurses and students, providing insight and exposure to various facets of research. The invaluable experience will provide opportunities to attend educational lectures, training and enrichment sessions, professional development, shadowing, a letter of recommendation, and potential job placement.
As a member of the research team, and in accordance with all regulatory, institutional, and departmental requirements, your responsibilities may include: participant enrollment, data collection, data entry, and other research related activities.
As part of the research team, you will:
Work closely with the Principal Investigators (PIs) and research Study Coordinators
Aid with institutional review board (IRB)-related materials such as ensuring consent forms and protocols are up to date
Aid with data collection and data entry as required, per project
Recruit and/or screen subjects per inclusion/exclusion criteria as described in the study/project protocol
Obtain informed consent of subjects, as required
Follow up with subjects, as required
Manage and respond to project related correspondences and deadlines.
Communicate protocol deviations with managers and the study coordinator and/or PI as soon as the deviation is detected
Maintain accurate field notes in the study files
Ensure all source documentation that supports data collected is available for review
Attend educational workshops, modules, seminars, and similar, as scheduled
Attend periodic research team meetings
If interested, you may assist with the preparation articles, reports, and presentations
Skills and Proficiencies
Collect and record data accurately
Communicate clearly with subjects and members of the research team
Demonstrate attention to detail
Apply critical thinking skills
Demonstrate effective time management skills
Maintain proficiency in basic computer skills (i.e., Microsoft Office); knowledge of analytic software a plus
If you are interested in the RA program contact the CNRI at CNRI@mountsinai.org.
Student Level
Criteria & Commitment
Levels of Responsibility
BSN

GPA 3.0+
Approval from Advisor
≥4 hours/week
≥1 semester (4 months)

Approach pre-identified patients; explain research study
Schedule coordination
Follow-up phone calls
Distribution and collection of surveys
Aid with data abstraction and creation/maintenance of de-identified datasets
Masters, DNP (& select BSN accelerated)

GPA 3.0+
Approval from Advisor
≥4 hours/week
≥1 semester (4 months)

Same as BSN students plus the following:
Act as preceptors in training other RAs
Help with collection of biological samples, as indicated
With training, conduction of interviews/focus groups, etc.
Doctoral
GPA 3.0+ (3.5+ preferred)
Approval from advisor
Minimum 6-8 hours/week
Minimum 2 semesters
Same as above plus the following:
Works closely with PI and research study coordinator
Supervision of BSN and Master's level RAs
Quality control checks of datasets
Troubleshoot any issues
Aid with IRB-related material (consent forms are up-to-date, etc.)
Aid with evaluation of research findings
Aid with manuscript development
The Mount Sinai Hospital Training School for Nurses was opened at in 1881 as a three year diploma school, representing one of the first modern nursing schools in the United States. In 1923 the name was changed to The Mount Sinai Hospital School of Nursing. The School graduated its final class in 1971, bringing the total number of graduates to 4,700. The School was exclusively for female students until its last class in 1971, when one male student received a Mount Sinai Hospital Nursing Diploma. The motto of the School was 'Vota Vita Nostra' – Our lives are devoted.
The devotion of Mount Sinai Hospital trained nurses has been widely demonstrated with their resilience and innovation at the forefront during major historical events such as the great depression and WWII. The alumnae from the Mount Sinai School of Nursing have always been a pivotal force, with many continuing the legacy. In fact, the Alumnae Association is a significant contributor to the Center for Nursing Research and Innovation at The Mount Sinai Hospital. It is through their generous support that their legacy continues through providing today's clinical nurses and nurse scientists with opportunities to advance the science and clinical practice for our patients and the surrounding communities. The legacy of The Mount Sinai Hospital School of Nursing is continuously showcased through our excellence in patient care.
"The object of this society is the education and training of nurses for the sick, in order that those desirous of devoting themselves to this noble calling shall find a school for their education and the public shall reap the advantage of skilled and educated labor."