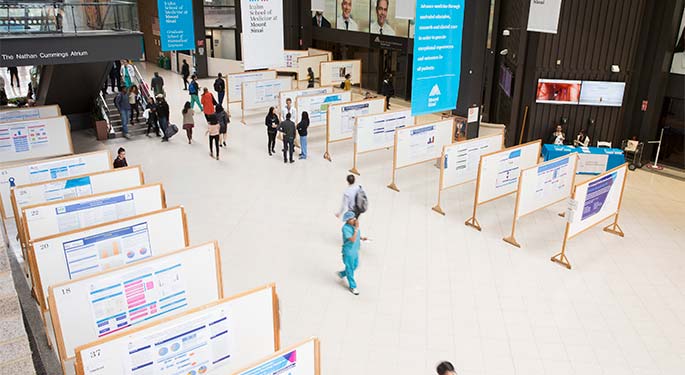 Center for Nursing Research and Innovation
One of the only nursing centers in the country established within a medical school, the Center for Nursing Research and Innovation (CNRI) formalizes an already strong relationship between Mount Sinai nurses and physicians. The CNRI facilitates multidisciplinary translational research programs that emphasize patient care and strengthen the profession of nursing through innovation, collaboration, and the application of research into everyday nursing practice. Having nurses actively involved in translational research may expedite bench-to-bedside discoveries for improving patient care outcomes. In this capacity, the quality of nursing and patient care outcomes throughout the Mount Sinai Health System – and at hospitals within the U.S. and globally – is enhanced significantly.
Inquiry and science are fundamental to raising the bar in nursing practice, improving the patient experience, and enhancing patient outcomes. The CNRI provides our nurses with an academic framework designed to promote and support the advancement of their research interests. As important, within the CNRI, nurses can serve as integral members of translational research teams, bringing patient-oriented issues to the table and facilitating the rapid translation of results back into clinical practice. A future goal is to establish a Center for Symptom Management.
The unique bond between The Mount Sinai Hospital and Icahn School of Medicine enables our faculty and staff to participate in both the discovery and delivery of the most advanced medical care. The CNRI reflects the close collaboration of our nurses and physicians in innovative research and superior patient care.
Mission and Vision of the CRNI
Mission: To create and transform scientific discoveries into innovative strategies for exemplar evidence-based patient-centered care.
Vision: To facilitate a strong nurse-led collaborative research-intensive community with a focus on providing evidence-based health care grounded on outcomes of rigorous scientific research.
Through the infrastructure of the CNRI, a robust program of nursing research is being developed. Rigorous scientific studies are submitted for Federal, Regional, Foundational, and Institutional funding. The CNRI nurse scientists provide guidance in proposal development, pre- and post-grant award management, institutional review board (IRB) process, data safety and monitoring, and dissemination of findings. In addition, several programs and venues foster professional development in research and EBP as follows:
Research Assistant Program
EBP Fellowship Program
IRB proposal development
Mock grant reviews
Monthly "Workshop Wednesdays"
Manuscript development
Podium and poster presentation preparation
Annual Nursing Research Day