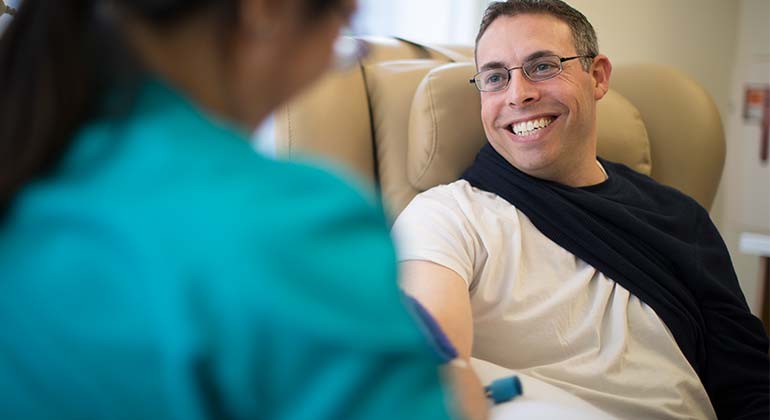 GI Oncology Services
If you've been diagnosed with gastrointestinal (GI) cancer, you want highly skilled GI oncologists who have access to the newest available treatments. At Mount Sinai Brooklyn, we bring the medical excellence of the Mount Sinai Health System home to the convenience of our community to ensure our patients achieve the best possible health.
GI Oncology Conditions We Treat
Our primary goal is to prevent cancer in the first place, so we make sure any patients who need to be screened are promptly scheduled for a colonoscopy, during which we'll remove any precancerous polyps that may be found. For patients who have developed cancer, our team is skilled in treating malignancies of the gastrointestinal tract, which includes cancers of the esophagus, stomach, small and large bowel, and gallbladder.
Our welcoming office staff provides a community experience, treating patients like family members. Beyond your visit, we strive to communicate test results to you promptly, and are available by phone for any questions you may have.
GI Oncology Services We Provide
Because we are committed to early detection, we quickly investigate any symptoms that may hint at cancer, including rectal bleeding, changes in bowel habits, and weight loss. The diagnostics and therapies we provide include colonoscopy, endoscopic retrograde cholangiopancreatography, and endoscopy.
In addition, we perform stenting to help relieve some cancer symptoms. We also help patients manage the side effects of medications used to treat GI cancers, like constipation and diarrhea.
Why Choose Mount Sinai Brooklyn
At Mount Sinai Brooklyn, our patients receive the highest level of care close to home. Our integrated team—which includes radiation oncologists, medical oncologists, and colorectal surgeons—works closely with your current primary care and GI doctors to provide you with the coordinated, comprehensive care you deserve.