Teenage Girl Receives Emergency Valve Repair, Now Leads Normal Life
More than six million Americans receive Mitral Valve replacements, when they can be replaced, resulting in a lifetime of complications.
Dominique recently celebrated her 15th birthday at a big party with her extended family in Teaneck, New Jersey. But just a month ago, her family didn't know if she would celebrate another birthday.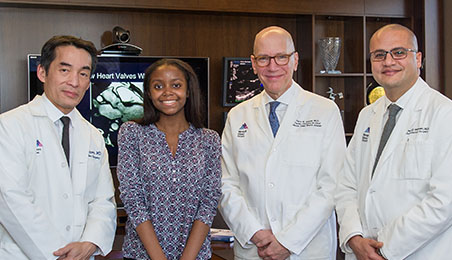 At a young age, Dominique was diagnosed with a heart murmur. This November, Dominique thought she had food poisoning and went to a local doctor with a fever. The doctor told her to return if the fever didn't drop. Still feeling ill, she went to the local hospital and received fluids. Over Thanksgiving, her condition deteriorated. Dominique couldn't eat, starting experiencing chills and took an ambulance to the local hospital. After being transferred to a second hospital, the doctor recognized that there was an issue with her heart valve and referred her Dr. David Adams, Cardiac Surgeon in Chief at Mount Sinai, an expert in mitral valve disease.
Dr. Adams recognized that she needed immediate surgery to repair her valve, vs. receiving a replacement valve, which would have a lifetime of repercussions for the young woman. More than six million people, 2 percent of the US population, experience mitral valve prolapse- when the valve between the heart's left upper chamber and the left lower chamber doesn't close properly. Most patients have their valves replaced when they could be replaced, and patients need to know this before they undergo a replacement.
Today, Dominique is ready to return to high school and lead a normal life. Both the patient and her surgeon are available to appear on camera to discuss her case.