Surviving Cardiac Arrest at Home Takes an Extended Medical Family
Otis Hooper, 54, is a strong gentleman in the construction trade. On June 30, Otis and his wife Tracey of East Harlem arrived home to their East 102nd Street apartment after enjoying a festive pre-4th of July BBQ and fireworks on Wards Island.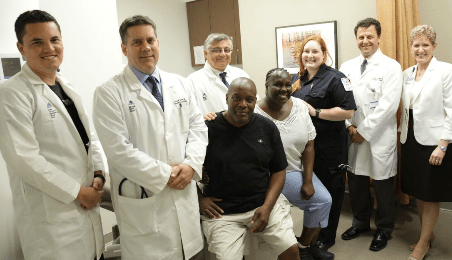 It was a normal evening for the 22-year-long, happily married couple. While Otis was helping carry in some shopping bags into their home, his wife prepared their Shih Tzu /Yorkie mix dog named "KoKo" for a walk.
"All of sudden my husband grunted loudly and fell across the living room floor," recalls his wife Tracey. "He stopped breathing. It was all so surreal, watching my Otis possibly dying in front of me. I was scared whether or not I would ever have my Otis back."
Immediately, Tracey screamed to her aunt in the kitchen, "Call 9-1-1."
"I didn't know CPR so the 9-1-1 dispatcher explained to me what to do and how to open my husband's airway by crossing his arms like an X across his chest and to lean on the middle of his chest."
The Fire Department was the first to arrive quickly at the Hooper's home and they started CPR compressions, and shortly after two EMTs from The Mount Sinai Hospital - Elizabeth Smith and Michael Ielmoni -arrived and shocked Otis' halted heart four times with an automated external defibrillator (AED).
"The rescue team was doing the best they could to bring Otis back," says Tracey. Otis' heart was successfully restarted and he was transported to The Mount Sinai Hospital's Emergency Department nearby.
An entire team of emergency medicine nurses and doctors quickly triaged and diagnosed Otis with an ST-Segment Elevation myocardial infarction (STEMI) including: Ruben Olmedo, MD, Attending and Resident Peter England, MD, and Triage Nurse Francena Bryan among others.
Interventional Cardiologist Joseph Sweeny, MD, and his team emergently evaluated Otis and took him immediately to the Cardiac Catheterization Laboratory where Dr. Sweeny and his team discovered that Otis had a totally blocked heart artery that caused his sudden cardiac arrest.
To restore blood flow to his heart Dr. Sweeny implanted a coronary stent to prop open the heart blockage. Otis was then placed in a medically-induced coma for 48 hours in the Cardiac Care Unit (CCU) at Mount Sinai. Doctors were able to fix his heart issue, but they weren't sure what damage the cardiac arrest may have caused his other organs, including his brain.
"Post intervention CCU care was critical in the neuro recovery of the patient," says Umesh Gidwani, MD, Medical Director of the Cardiac Care Unit.
Thankfully, an electrocardiogram of his brain in the CCU showed promising activity. "A few days after his cardiac arrest, when Otis' sedation was lowered whenever I called his name he would respond by trying to open his eyes. Also, when sedation was removed Otis started to tear-up when recognizing our family members. That's when our family knew he was going to be okay. Day-by-day he talked and moved a little more and wanted to get back to normal activities."
"CCU nurses Jessica and Veronica really brightened his day, always stopping by to encourage him. They were really outstanding," stressed Tracey.
In a little over two weeks Otis was almost back to normal and on July 15 he was discharged from The Mount Sinai Hospital.
Otis says he is "blessed to be back."
"It was a true blessing," says Tracey. "Otis is now back to walking KoKo in the morning, but just taking life at a slower pace so he doesn't have another heart episode. And he has even started cooking." The couple now looks forward to more BBQs and walks together with KoKo that they enjoy.
Tracey and Otis have important advice to others when faced with a cardiac arrest or heart attack at home. "It's best to stay calm," says Tracey. "And let the medical professionals do their job, while also praying to a higher power."
The extended medical family of first-responders, doctors, nurses, and staff at Mount Sinai's Emergency Department, Cardiac Care Unit, and the EMTs in its EMS Division, have responded to 70 cardiac arrests so far in 2015.
"Successfully treating patients like Otis who have had and survive an out of hospital cardiac arrest requires an immense amount of collaboration from multiple disciplines and is probably the most rewarding aspects of interventional cardiology," says Dr. Sweeny.
"The keys to survival in this patient case were 9-1-1 EMS care, along with Mount Sinai's Emergency Department, Cardiac Intervention, and CCU care. This team work demonstrates the importance of each link and the commitment Mount Sinai has to providing all of the essential components of cardiac care to our NYC community," says Kevin Chason, DO, Director of Emergency Management at The Mount Sinai Hospital.